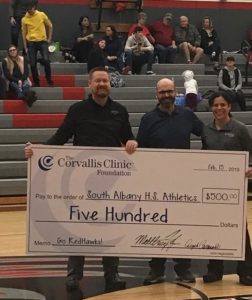 All proceeds from The Corvallis Clinic's annual 5K run/walk will be donated to the athletic departments of the top three high schools with the most race participants. So, start registering for your team today at Run for the Health of It!
Donations will be based on the number of race participants representing each high school
The school with the most race participants will receive the largest donation
The registration fee for a student walker or runner is $15
Make sure students, teachers, and parents choose your school from the drop-down menu in order to be counted
Remember, the more runners/walkers you have, the more money you can earn for your school's athletic programs. To download a flyer, click here.