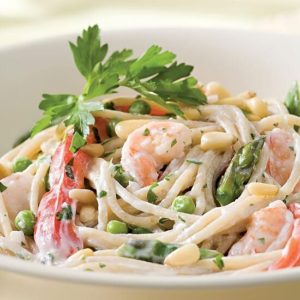 Vegetables for Two
Ingredients
3 ounces whole-wheat spaghetti
6 ounces peeled and deveined raw shrimp (see Note), cut into 1-inch pieces
1/2 bunch asparagus, trimmed and thinly sliced
½ large red bell pepper, thinly sliced
½ cup fresh or frozen peas
2 small or 1 large clove garlic, chopped
1/2 teaspoon plus 1/8 teaspoon kosher salt
¾ cup nonfat or low-fat plain yogurt
2 tablespoons chopped flat-leaf parsley
1 ½ tablespoons lemon juice
1 ½ teaspoons extra-virgin olive oil
¼ teaspoon freshly ground pepper
2 tablespoons toasted pine nuts
Directions
Step 1
Bring a large pot of water to a boil. Add spaghetti and cook 2 minutes less than package directions. Add shrimp, asparagus, bell pepper and peas and cook until the pasta is tender and the shrimp are cooked, 2 to 4 minutes more. Drain well.
Step 2
Mash garlic and salt in a large bowl until a paste forms. Whisk in yogurt, parsley, lemon juice, oil and pepper. Add the pasta mixture and toss to coat. Serve sprinkled with pine nuts (if using).
Nutritional Information
Per Serving: 403 calories; 6.2 g total fat; 1.2 g saturated fat; 181 mg cholesterol; 1323 mg sodium. 878 mg potassium; 54 g carbohydrates; 10.2 g fiber; 14 g sugar; 35.9 g protein; 3629
Exchanges:
2 1/2 Starch, 1 Vegetable, 1/2 Low-Fat Milk, 3 Lean Meat
Source: Eating Well