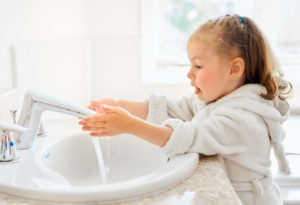 The Corvallis Clinic Pediatrics Team wants to help keep our patients and the community healthy during the COVID-19 pandemic.
What we are doing here at The Clinic:
• Screening patients for symptoms of COVID-19 before their office visit and  encouraging home-care when possible.
• Minimizing potential exposure by rearranging our schedules to have well children seen at a separate time of day than sick children
• Postponing well visits for children when vaccines are not due
• Implementing telemedicine visits to conduct visits that do not require a detailed physical exam
• Rescheduling some medical visits that can safely be postponed
• Using our patient portal to provide medical advice and answer clinical questions
What you should be doing at home:
• If you suspect that you are experiencing symptoms of novel coronavirus (COVID-19), please call our department before entering the building.
• Wash your hands frequently using soap and water or hand sanitizer containing 60% alcohol.
• Stay home as much as possible, especially if you have any symptoms of a cold: runny nose, congestion, cough, fever.
• Practice "social distancing". Stay home. When in public, try to maintain 6 feet of space between yourself and others.
• Have play dates outside in wide-open areas rather than inside and also avoid shared playground equipment
• Make use of online video calling programs like FaceTime or Skype to stay connected with friends or family
We are committed to keeping our children, our staff, and all of our patients safe. 
Thank you,
The Corvallis Clinic Pediatrics Team
Stay informed with reliable sources: