By Keith Bowers
For the Corvallis Clinic
Talk to Sandy for a few minutes, though, and you learn that she went through chemotherapy, surgery, and radiation treatment, and that her attitude made all the difference in how she fared.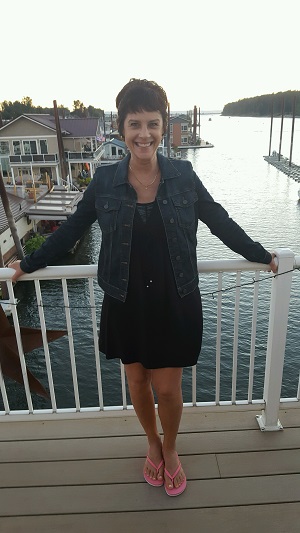 At her chemo appointments, for example, she would arrive dressed in fabulous outfits and with food to share with everyone. "I never left the house without being put together," said Sandy, 57, a teacher at Mountain View Elementary School who has lived in Corvallis for nearly three decades. "I had a choice." She said her husband, Mark; her two sons, 27-year-old Jordan and 22-year-old Jared; and her sister were among family and friends who provided crucial support.
Sandy also helped herself by rarely missing a day at the gym. The workouts kept her physically active during treatment and helped her maintain social contact with people—many of whom told her every day that she looked great "It was everything," she said.
Her treatment began in August 2016 at The Corvallis Clinic Oncology Department and was completed at Samaritan Health Services during a transition time between The Clinic's department closing and the new Willamette Valley Cancer Institute opening. (The Willamette Valley Cancer Institute is now offering oncology services at The Clinic's
Aumann Building, 444 NW Elks Drive, in Corvallis). Her final round of radiation treatment came on April 19, and her final round of reconstructive surgery is scheduled for October 11.
Sandy's irrepressible attitude has earned her another accomplishment: becoming a mentor with The Clinic Foundation program known as Project H.E.R., whose acronym stands for Help, Enlightenment and Resources. Among other things, Project H.E.R. provides patients support from the time of cancer diagnosis through survivorship. Once limited to breast
cancer, the program now is open to all patients with different cancer diagnoses. Through Project H.E.R., Sandy worked with Joann Stutzman, who until recently was the program's nurse navigator. She describes Stutzman as a vital ally in her fight with cancer.
"There's not one question I could ask her that would seem weird," she said of Stutzman. "And she always had something for me," citing hats, books, and meals as items she provided. Stutzman's efforts illustrate Project H.E.R.'s mission to prepare patients for what's to come in the health care process, then to help them by providing support and links to outside resources. "We aim to be one of the first people they talk to in the process," said Kathy Nepper, Project H.E.R.'s new nurse navigator and also Sandy's chemotherapy nurse during treatment. Said Sandy, "They just made everything easy—seamless," including providing a person to take notes during physician appointments.
Project H.E.R. links patients to many community resources, as well as offers its own supportive services. Donna Bella Lingerie in downtown Corvallis, for example, helps women with bras, breast forms, and post-surgical cami's.
The American Cancer Society's Look Good Feel Better class provides makeup and teaches beauty techniques for women undergoing cancer treatment. Project H.E.R. partners with Dream Dinners to provide meals for cancer patients through the Cook for Cancer program.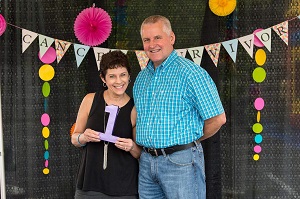 Hair Body and Sole Salon and Spa offers complimentary services for women going through cancer treatment. Before she started chemotherapy, Sandy received a manicure and pedicure as well as a bob haircut there—she and a group of friends made a sort of celebration out of the event. Project H.E.R. also put Sandy in touch with a group called the Pink Sistas, which organizes social events, weekend retreats, and produces a calendar featuring breast-cancer survivors. It's where she bonded with a fellow breast-cancer survivor named Yvonne, who's now a close friend. "She has been a godsend," Sandy said.
That type of bond is what Project H.E.R. looks to build in its mentor program. "Many mentor relationships turn into lifelong friendships, where the mentor becomes part of the patient's family," said Parker Cochran, outreach coordinator, who also worked with Sandy during her treatment. Project H.E.R. pairs newly diagnosed cancer patients with "mentors" who have been through a similar diagnosis, as well as the process of treatment and recovery. Cochran said Project H.E.R. has mentors of various ages. The youngest are in their mid-20s, while the oldest are in their 70s.
She also said the program advises women to wait a year from the time they finish treatment to become mentors. This way, she explained, a person can come to terms with the experience, process it, and grieve as needed, and then become strong enough to take on the emotions of a person who's been recently diagnosed. But Sandy didn't want to wait, so Project H.E.R. gave her a shot. In late July, three and a half months after her final radiation treatment, Sandy met with her first patient. Cochran and Nepper said Sandy mirrored her own experience by bringing many things, including bras, photos of herself throughout treatment, and tips on clothing, as well as how to maintain an athletic regimen during treatment. (The woman she met with is a long-distance cyclist.)
"I don't think Sandy realizes how helpful and encouraging she was to that patient," Nepper said. "It's exciting to see one of your own patients pay it forward, I believe it helps them heal."
Sandy said she wants to give to others what she got from Project H.E.R. Help, Enlightenment and Resources. "I look forward to sharing my experience with others," she said.