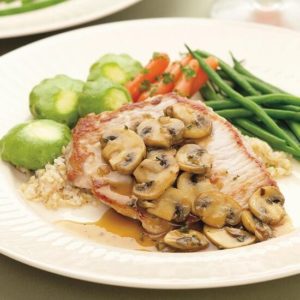 Ingredients
2 5-ounce boneless, center-cut pork loin chops, trimmed and pounded to 1/4 inch thick
¼ teaspoon salt
¼ teaspoon freshly ground pepper
1 teaspoon extra-virgin olive oil
1 medium shallot, minced
1 1/2 cups sliced mushrooms, (about 4 ounces)
½ cup dry vermouth
1 teaspoon Dijon mustard
1 teaspoon chopped fresh thyme
Directions
Step 1
Sprinkle pork chops with salt and pepper. Coat a large nonstick skillet with cooking spray and place over medium heat. Add the pork chops and cook until browned on both sides and cooked through, 2 to 3 minutes per side. Transfer to 2 serving plates; tent with foil to keep warm.
Step 2
Swirl oil into the pan, add shallot and cook, stirring, until soft, about 30 seconds. Add mushrooms and cook, stirring occasionally, until they soften and begin to brown, about 2 minutes. Add vermouth and cook for 15 seconds. Stir in mustard, thyme and any juices that have accumulated from the pork; cook until the sauce is thickened and slightly reduced, 1 to 2 minutes more. Spoon the sauce over the pork chops and serve immediately.
Nutritional Information
298 calories; 12.7 g total fat; 3.6 g saturated fat; 77 mg cholesterol; 382 mg sodium. 536 mg potassium; 4.2 g carbohydrates; 0.8 g fiber; 1 g sugar; 25.6 g protein; 145 IU vitamin a iu; 3 mg vitamin c; 13 mcg folate; 31 mg calcium; 1 mg iron; 31 mg magnesium; 1 mg thiamin;
Source: Eating Well