By Lori Dodds, RDN, LD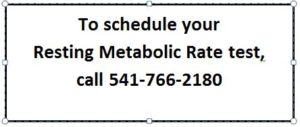 Have you ever wondered how many calories your body needs in order to lose weight?  You can eliminate the guesswork as we now offer Metabolic Testing!  This simple, 10- minute breath test calculates precisely how many calories you burn as if you were doing nothing but sitting a chair all day. With this valuable information, we can then calculate specific daily calorie requirements that include lifestyle, activity and exercise.  This knowledge allows you to consume the maximum amount of food and nutrients your body needs and still lose weight!
Why Test your Metabolic Rate?
A person's metabolic rate is highly individualized and is affected by many factors such as age, weight, gender, body composition and hormone levels.  Metabolic rate is determined by how efficiently your body converts calories (food) into energy.   The calculations are broken down into three categories:
Resting Metabolic Rate: RMR testing is measured by analyzing the gases you exhale and calculating precisely how much oxygen your body has consumed.  It then converts those calculations into calories needed at rest, also known as Basal Metabolic Rate.  This is the number of calories required to keep your body functioning while in a fasting state and totally relaxed.
Lifestyle and Activity: This is an estimated calculation based on the RMR that includes calories needed to compensate for lifestyle and daily activities.
Exercise: Calories estimated for participating in 30 minutes of moderate exercise.
Preparing for the Test:
Prior to the test, a person should be fasting for at least 4 hours, eliminated stimulants such as caffeine and smoking, and not participated in heavy exercise the night before.
During the Test:
Our metabolic room is equipped with a large recliner, dimmed lights and soft tranquil music to help you relax and feel as comfortable as possible. You will be given a breathing tube, along with a mouth piece and gentle nose clip.  You will breathe in air from the room and the gases you exhale will be captured via the hose and into the machine for analysis.   The test usually takes about 10 minutes.
Reviewing Results:
Upon completion of this test, you will meet with a registered dietitian to review and discuss results.   The dietitian will assess your individual calorie needs for RMR, daily activities and exercise. This information can then be calculated into personalized Target Zones, suggesting specific calorie ranges needed to achieve your weight-loss or weight- maintenance goals.
Metabolic Testing is Often Covered by Insurance:
Call your insurance company and provide them with the CPT code 94690, for Oxygen uptake, expired gas analysis, rest, indirect.  If insurance does not cover, we offer a discounted rate if requested at the time of service.
Knowing your individualized metabolic rate can eliminate the guess work of what you should eat and free you from the struggles and frustrations of not losing weight. Knowing precisely what your body needs can allow you to eat the maximum calories and still meet your weight loss goals!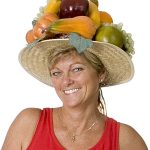 Lori Dodds is a Registered Dietitian Nutritionist and Licensed Dietitian at The Corvallis Clinic Nutrition Services Department. She is also the Program Coordinator at The Corvallis Clinic Weight Loss Center.
Follow her on Pinterest, Twitter and LinkedIn.