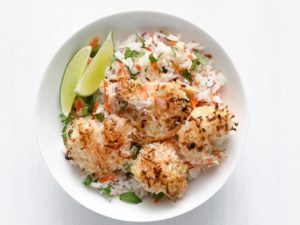 Ingredients
3/4 cup coconut water
3/4 cup jasmati or other long-grain rice
Zest of 1 lime (removed with a vegetable peeler), plus wedges for serving
1/2 cup shredded carrots
2 tablespoons finely chopped red onion or scallions
Kosher salt and freshly ground pepper
1 pound large shrimp, peeled and deveined
1 large egg
1 cup sweetened shredded coconut
3/4 cup panko breadcrumbs
2 tablespoons chopped fresh cilantro
Directions
1. Preheat the oven to 425 degrees F. Line a rimmed baking sheet with foil and set a wire rack on top; coat with cooking spray. Combine 1 cup water, the coconut water, rice and lime zest in a medium saucepan and bring to a boil. Reduce the heat to medium low; cover and simmer 8 minutes. Remove from the heat; add the carrots, red onion, 1/4 teaspoon salt and a few grinds of pepper (do not stir). Cover and let sit 10 minutes, then fluff with a fork to combine. Discard the lime zest.
2. Meanwhile, season the shrimp with salt and pepper. Beat the egg and 2 tablespoons water in a bowl. Combine the coconut and panko in another bowl. Dip the shrimp in the egg mixture, then the coconut-panko mixture, gently pressing to adhere; transfer to the prepared rack. Bake until the shrimp are cooked through, about 10 minutes.
3. Turn on the broiler. Broil the shrimp until golden brown, 1 to 2 minutes. Add the cilantro to the rice mixture and toss. Serve with the shrimp and lime wedges.
Source:
Food Network