CORVALLIS — Edward Kelly has been named the new chief executive officer of The Corvallis Clinic. He will start on Sept. 17.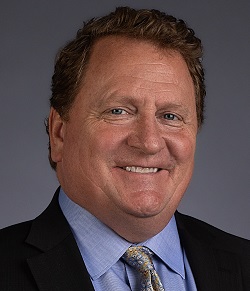 Kelly brings more than 25 years of experience as a healthcare executive, most recently as CEO at Regency Hospital in Minneapolis. He said that while quality of care is "paramount," he also aims to focus on improving ways to deliver services more conveniently to patients.
"The Corvallis Clinic already has a strong reputation throughout the mid-Willamette Valley for providing quality medical care," said Kelly, who earned a Master of Health Administration from Washington University in St. Louis. "Along with this high level of service, convenience is also critical. Patients are the customers, and we need to make sure we meet their overall needs."
Kelly is the fifth CEO in the Clinic's 71-year history. He replaces former CEO Brad Wakefield, who left in March and is working at PeaceHealth in Eugene.
"Ed brings a track record of getting in the trenches operationally and having a patient-first mentality," said Mark Reploeg, M.D., president of The Clinic Board of Directors, which selected Kelly in a nationwide search.  "He also has significant experience with independent, physician-owned medical groups.  This was a priority for us." Kelly was chosen from an initial pool of 185 potential candidates.  "Being chosen from that number speaks to the strength of his ability," Reploeg said.
Kelly said the transition from a "fee-for-service" payment model to a "fee-for-value" model is a major challenge facing healthcare organizations, especially independent, physician-owned medical groups, such as The Corvallis Clinic. "It's important for The Corvallis Clinic physicians to remain independent," said Kelly, who has managed multiple physician-owned groups in his career. "I'm going to work very hard to maintain their independence as we move away from paying providers based on the amount of healthcare services they provide to one based on clinical outcomes."
He said another challenge is to recruit and retain top talent, for both providers and staff. "Training, supporting and respecting our providers and staff are required to achieve optimal medical outcomes," he said.
Kelly also was chief executive officer at Kindred Hospital San Francisco Bay Area in San Leandro, Calif.; executive director, Greater Bay Area, Dignity Health Medical Foundation, in Sacramento, Calif.; and chief administrative officer at California Pacific Orthopedics & Sports Medicine, in San Francisco. In addition, he was chief operating officer at both Sutter Health/Palo Alto Medical Foundation, Palomares Division, in Palo Alto, Calif., and at Stanford Health Care-Menlo Medical Clinic, in Menlo Park, Calif.
Kelly is a fellow of the American College of Healthcare Executives and a Certified Medical Practice Executive. Kelly's healthcare ambitions began as a youth in a small-town in Minnesota where he observed what his physician father meant to people. "They would walk up to me at church and say such things as, 'Thanks so much for helping my family.'  Hearing such comments made a big impact on me to choose healthcare as my career.
"I'm very passionate about healthcare. It never gets old with me. I love it. To be there to help people in a time of need is a privilege in which I take very seriously."
The Corvallis Clinic, an independent, physician-led medical group, is a comprehensive multi-specialty organization, serving Benton, Linn and Lincoln counties.  It offers more than 100 board-certified providers and advanced clinical professionals in 27 specialties at 10 area locations.  As the fourth-largest area employer, The Corvallis Clinic has more than 600 employees.