By Julie Carrico, MBA, CCRC
It was a year of firsts for the Clinical Research Center. The department's first and founding manager, Pat Eshleman, retired.  This was coupled with our first-ever search for a new manager which, we're relieved to say, had a happy ending.  Sheena Strohmayer, who began her professional career at the Clinical Research Center, is now the second manager in our history!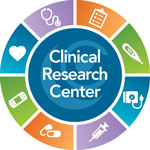 It was a busy year!  We provided care for 150 patients who participated in our various clinical trials.  Taking care of those patients required the Research Center staff to complete more than 750 patient appointments.  In addition, 10 physicians and providers at The Corvallis Clinic made time in their daily practices to see Research patients.
Three Treatments OK'd by FDA
In another first, a record three treatments from our clinical trial program were approved by the FDA.  The Research team and our amazing patient volunteers are proud of their contributions of medical data for:
Trelegy Ellipta, a new inhaled medication for Chronic Obstructive Pulmonary Disease (COPD) is the first treatment to combine three active ingredients into a single inhaler. We felt this was a good study to participate in as it might benefit patients to have a simplified treatment regimen.
Shingrix, a vaccine to prevent shingles, was approved by the FDA after clinical trials showed the vaccine to be safe and more effective than the vaccine currently on the market. Anyone who has ever experienced or witnessed a shingles infection will tell you this is a good thing!
Ozempic, a new once-weekly injectable medication for Type 2 Diabetes, was just approved by the FDA a few weeks ago. This  treatment option offers good control of blood glucose with the added benefit of potential weight loss.

ACRP Certifications
The first group to achieve the new "Clinical Research Professional" certification offered by the Association of Clinical Research Professionals (ACRP) included two of our own staff members.  Congratulations to Josh and Sheena on the achievement!  They join Carlene, Lisa, Kim and Julie in having ACRP certifications in their specialties.
The New Year
In 2018 we plan to enroll first patients in clinical studies for Type 1 diabetes and endometriosis, so stay tuned for more information!
But first things first!  Make your health a top priority when setting goals for2018.  And don't forget that the Clinical Research Center might be able to help you.
The Clinical Research Center is currently seeking volunteer patients in studies for Alzheimer's disease, Type 2 diabetes and a vaccine to prevent exacerbation in patients with chronic obstructive pulmonary disease (COPD).  Click here if you'd like to be contacted about one of these studies.
If you are interested in learning more about clinical trials, contact the Clinical Research Center at 541-766-2163 or send an email to research@corvallisclinic.com.  Or, follow us on Facebook at https://www.facebook.com/corvallisclinicresearch.
– Julie Carrico is Associate Coordinator of The Corvallis Clinic Clinical Research Center and a Certified Clinical Research Coordinator