Note: To view a video of Dr. Hopson talking about her practice and herself, visit Hopson.
CORVALLIS — Shannon Hopson, D.O., will start to see patients in The Corvallis Clinic's Endocrinology Department in mid-July. To make an appointment, call 541-754-1260; to request an appointment online, go to New Patient Appointment Request.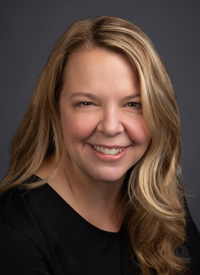 Dr. Hopson provides general endocrinology care, inspired by the latest technology in diabetes management. She has a special interest in meditation and mindfulness to help her patients cope with the stress of work, family, and living with a chronic medical condition. Dr. Hopson also provides transgender hormone therapy.
Dr. Hopson comes to The Clinic from CaroMont Regional Medical Center, Gastonia, NC, where she was the Medical Director of Diabetes and Endocrinology from 2004 to 2019. She also was an endocrinologist for Endocrinology Associates in Gastonia, NC, and Lake Wylie, SC, during the same time period.
She is certified by the American Board of Internal Medicine in Endocrinology, Diabetes and Metabolism,
"The best part of being an endocrinologist is I really get to know my patients," she said. "I am proud of the relationships I have built with my patients, in particular with those who were reluctant to keep their first appointment – especially when we can reflect on the progress that has been made and the improvements they've been able to make in their health as a result of working with me."
Dr. Hopson completed a fellowship in Endocrinology, Diabetes and Metabolism at the Medical University of South Carolina, in Charleston, SC, in 2004, and an Internal Medicine residency at the Greenville Hospital System, in Greenville, SC, in 2002. She earned a Doctor of Osteopathic Medicine from the College of Osteopathic Medicine at Oklahoma State University, in Tulsa, OK, in 1999.
An amateur photographer, Dr. Hopson loves to travel, hike and spend time outdoors with her two boys.
The Corvallis Clinic, an independent, physician-led medical group, is a comprehensive multi-specialty organization, serving Benton, Linn and Lincoln counties.  It offers more than 100 board-certified physicians and advanced clinical professionals in 27 specialties at 10 area locations.  As the fourth-largest area employer, The Clinic has 600 employees.