By Keith Bowers
For the Corvallis Clinic
It can't be easy for someone who was a physician in her native Russia to find herself a refugee in the U.S. cleaning up cigarette butts as a nursing assistant.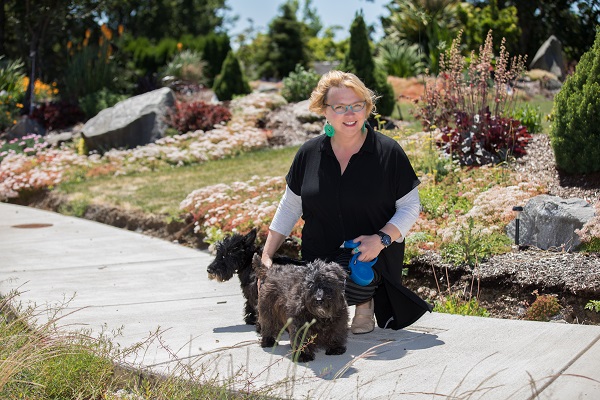 However, for Marina Arbuck, M.D., it was just one experience among many – throughout four decades and three continents – that she has used to enhance her role as a provider.
"Overall," said The Clinic's newest internal medicine physician," "it made me a better person and a better doctor."
Russian Beginnings
Dr. Arbuck said the idea of being a physician appealed to her when she was a child, but medical school was also a matter of place. She lived in the Russian city of Yaroslavl, which in the 1970s was still part of the Soviet Union, and there were four professional schools available. One was medicine.
"In Russia, you're quite tied to the place where you happen to be born," she said, explaining that people couldn't settle where they wanted without government approval. "Probably 90 percent of my classmates are still in that same city."
Dr. Arbuck described life as rather insulated and comfortable, yet she eventually learned about the nation's oppressive nature. Arbuck said her family did not suffer because of Stalinism, but the family of the man she married certainly did, including a grandfather who was imprisoned and tortured. The stories told by her then-husband, a psychiatrist who also is the father of their son, were eventually underscored by the release of many government records by Mikhail Gorbachev, the final leader of the Soviet Union.
Gorbachev also eventually allowed Soviet Jews to exit the country, so in 1989, at age 31, Dr. Arbuck and her family decided to leave.
Transition in Italy
They entered a resettlement network administered by a group called the American Jewish Joint Distribution Committee. One of their first stops was in Nettuno, Italy, where nearly 100,000 Russians awaited their next destinations. Her husband worked as a pediatrician for the refugee group while Dr. Arbuck worked as an interpreter for an Italian physician. She had taken Latin in medical school, so she picked up Italian pretty easily.
She said she earned only $5 an hour, and while they couldn't afford much, "it was still great, because you're in Italy and you've never lived better."
Arrival in the U.S.
In 1990 the couple moved to Indianapolis, where they found a small community of Russians who made the transition much easier. She said they walked into their new apartment to find it furnished, with a refrigerator full of food. She and her husband contributed to doing the same for Russians who arrived later, and everyone helped one another with tasks such as driving kids to appointments. Assistance also came from the U.S. government, which was eager to help Jews fleeing its Cold War foe.
She said the sense of community she found was among the best in her life, "It was a paradise," she said. "It was a bliss like that for four months."
Dr. Arbuck says it's a little embarrassing to think of themselves as refugees.
"We were not physical refugees, not like ones you see today in Europe," she said.
An Interest in Psychiatry
In Indianapolis, before passing the medical boards to get into a U.S. residency program, Dr. Arbuck was hired as a nursing assistant to work with psychiatric patients, taking vital signs, talking to people on suicide watch and accompanying some patients on supervised shopping trips.
"It was great experience because behavioral science was not something we studied in the Soviet Union," she said. "I learned so much in those days – and your English improves when you do nothing but talk on 16-hour shifts."
She said certain mid-level employees gave her grief, saying things like, "You're a physician, and look – now you're cleaning up cigarette butts," but the physicians treated her with respect.
She said she met many patients who'd had full lives and families but lost everything.
"It teaches you about compassion," she said, "and it makes you ask the question, 'Who is normal?'"
It also has shown her how prevalent mental health issues are. As a physician, she said, "One out of every four or five people you see during the day has mental health issues." Understanding this helps her connect with patients. Dr. Arbuck said she has also experienced depression, and sometimes she brings it up with patients, saying, "I had this too, I know what you're going through." 
Infectious Disease Study
Dr. Arbuck's specialty in infectious disease came during her residency in internal medicine at St. Vincent Hospital in Indianapolis. She explained that in Russia, physicians were required to spend time in remote or disadvantaged parts of the country as a way to repay the government for their education. During her stint, she worked with many tuberculosis patients and learned a lot about the disease. So on a fellowship paid for by St. Vincent, she traveled to Swaziland, Africa, to study tuberculosis as well as malaria, HIV and meningitis.
She found a great sense of community in Africa, too: "Everybody regards you with such respect. There's no reason for those doctors to be there except they wanted to be doctors."
 The Move to the Pacific Northwest
On a trip to the University of Washington, Dr. Arbuck said she fell in love with the state. She eventually held staff physician jobs at the Madigan Army Medical Center in Tacoma as well as practices in Auburn and Redmond. She later moved to Bellevue, where she said she became disappointed professionally as well as personally.
"I don't like doing preventive medicine only," Dr. Arbuck said, describing an environment where there seemed to just be too many physicians.
The affluent city of Bellevue began to wear on her as well. She describes an experience in a department store alongside many well-dressed, well-groomed individuals in a slow-moving line, all of whom "had an expression as if they just had a very sour apple." She wanted to shout at them: "People! You have no idea how well you live! Why don't you appreciate it?"
Dr. Arbuck's son lives in Washington, and she investigated Corvallis because one of his friends lives here. She says she has been well-received at the Corvallis Clinic.
"I feel like people are interested in me not only as a doctor, but also as a person," she said.
Art and Dog Rescue
Art and animals are among Dr. Arbuck's passions outside medicine.
She began painting about five years ago, in oil and then acrylic. She took lessons and read books, then she was introduced to a painter who gave her lessons – a Russian architect who studied at a prestigious Russian school. Things went well but then she began to experience frustration with her work. She remedied the situation by taking a drawing class and doing exercises from the book, "Drawing From the Right Side of the Brain."
When it comes to animals, Scottish Terriers are Dr. Arbuck's love. She currently has two rescue dogs and has had a total of seven Scotties since 2000. In Washington she worked with a group called Scottish Terrier Rescue Northwest, and she plans to search for a similar group here in Oregon.
Dr. Arbuck says animals have taught her much about humans.
"Knowing them, observing them through all stages of life – I frequently bring that into my work as a physician," she said.
She also says people could learn important things from dogs.
"If they're a little deaf, a little blind, they don't get depressed about it," she said, "they just adjust."