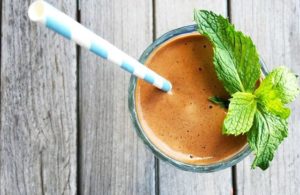 by Livestrong_Recipes | Feb 3, 2019
This mint-chocolate smoothie is out-of-this-world refreshing. It gets its natural sweetness from a combination of fiber-rich pitted dates and frozen banana slices. Top it off with a few fresh mint leaves, which can help promote digestion.
Prep: 10 min
SERVES 2
INGREDIENTS
• 1 medium banana
• 8 Pitted Dates
• 1 cup Organic Fat Free Milk
• 2 1/2 tbsp Cocoa, dry powder, unsweetened, HERSHEY'S European Style Cocoa
• 12 leaf fresh mint leaves
• 3/4 tsp Pure Vanilla Extract
• 1/4 tsp peppermint extract
DIRECTIONS
1 Peel and slice banana. Freeze (brown-spotted) banana slices, at least 2 hours.
2 Add frozen banana, dates, milk (or unsweetened plain non-dairy milk alternative), cocoa powder, mint leaves, and extracts to a blender. (Hint: Use just 1/8 teaspoon peppermint extract if prefer milder mint flavor.)
3 Cover and puree on high speed until thick, creamy, and dates are fully pureed, at least 2 minutes.
4 Serve in two goblets or milkshake glasses.
NUTRITION INFORMATION
227 CALORIES PER SERVING
Serving Size: 1 1/2 cup
1g Fat
48g Carbs
7g Protein
Total Fat 1g
Saturated Fat 0g
Cholesterol 3mg
Sodium 53mg
Carbohydrates 48g
Dietary Fiber 5g
Sugars 37g
Protein 7g
* The % Daily Value (DV) tells you how much a nutrient in a serving of food contributes to a daily diet. 2,000 calories a day is used for general nutrition advice.