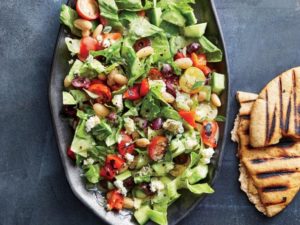 Photo: Caitlin Bensel
Active Time 30 Mins
Total Time 30 Mins
Yield Serves 4 (serving size: about 2 1/4 cups salad and about 4 pita wedges)
Cooking Light Adam Dolge
October 2017
A chopped salad, full of contrasting flavors and textures and bound by a zingy vinaigrette, is a great quick and easy meal. Red bell peppers, romaine, cucumber, and cherry tomatoes are available year-round, making this satisfying main a staple worth keeping in rotation. We take the extra step of grilling the bell peppers along with the pita to add a bit of char and smoky depth. You could also broil the peppers until blackened and peel, and broil the pita until toasted. A can of unsalted cannellini beans is the pantry hero of this salad, though canned chickpeas would also work.
Ingredients
• Cooking spray
• 1 large red bell pepper
• 1/4 cup olive oil, divided
• 2 teaspoons chopped fresh oregano, divided
• 1/2 teaspoon garlic powder
• 3/8 teaspoon kosher salt, divided
• 3 (6 1/2-in.) whole-wheat pita rounds
• 1 tablespoon white wine vinegar
• 1 tablespoon fresh lemon juice
• 2 teaspoons Dijon mustard
• 1/4 teaspoon black pepper
• 4 cups chopped romaine lettuce
• 2 cups chopped English cucumber
• 1 cup halved cherry tomatoes
• 2 tablespoons pitted kalamata olives, chopped
• 1 (15-oz.) can unsalted cannellini beans, rinsed and drained
• 1 ounce feta cheese, crumbled (about 1/4 cup)
How to Make It
Step 1
Heat a grill pan over medium-high. Coat pan with cooking spray. Remove seeds and membranes
from bell pepper; cut into quarters. Add bell pepper to pan; cook 4 minutes on each side or until
tender and charred. Remove bell pepper from pan; cut into bite-size pieces.
Step 2
Combine 1 tablespoon olive oil, 1 teaspoon oregano, garlic powder, and 1/8 teaspoon salt in a
bowl. Brush oil mixture evenly over both sides of all pita rounds. Add pita rounds to pan; cook 2
minutes on each side or until well marked. Cut each pita into 6 wedges.
Step 3
Combine remaining 3 tablespoons oil, vinegar, juice, and mustard in a large bowl, stirring with a
whisk. Stir in remaining 1 teaspoon oregano, remaining 1/4 teaspoon salt, and black pepper. Add
charred red bell pepper, lettuce, cucumber, tomatoes, olives, and beans to bowl; toss well to
combine. Divide salad among 4 plates; top evenly with cheese. Serve with grilled pita wedges.
Nutritional Information
• Calories 396
• Fat 19g
• Satfat 3g
• Unsatfat 12g
• Protein 12g
• Carbohydrate 48g
• Fiber 10g
• Sodium 684mg
• Calcium 12% DV
• Potassium 21% DV
• Sugars 6g
• Added sugars 0g