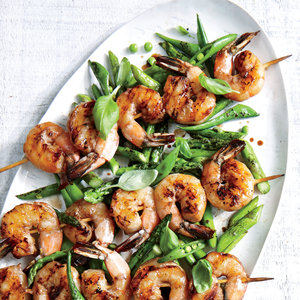 Ingredients
 1/4 cup olive oil
 2 tablespoons lower-sodium soy sauce
 1 tablespoon rice vinegar
 1 teaspoon chopped garlic
 1 teaspoon chopped peeled fresh ginger
 1 jalapeno pepper, chopped
 1 1/2 pounds large shrimp, peeled and deveined
 1 cup sugar snap peas, trimmed and halved diagonally
 1 pound asparagus, trimmed and cut diagonally into 1-inch pieces
 Cooking spray
 2 teaspoons canola oil
 1/4 teaspoon kosher salt
 Fresh basil leaves
How to Make It
Step 1
Combine first 6 ingredients in a bowl. Place shrimp in a large bowl. Pour two-thirds of oil mixture over shrimp; toss to coat. Reserve remaining oil mixture. Chill shrimp mixture in refrigerator 2 hours.
Step 2
Cook snap peas and asparagus in boiling water 45 seconds. Remove from pan. Immediately plunge into a bowl of ice water; drain well.
Step 3
Preheat grill to medium-high heat.
Step 4
Remove shrimp from marinade; discard marinade. Thread about 5 shrimp onto each of 4 skewers. Place skewers on grill rack coated with cooking spray; grill 3 minutes on each side or until shrimp are done.
Step 5
Heat a cast-iron skillet over high heat. Add canola oil to pan; swirl to coat. Add
asparagus and peas; cook 3 minutes or until browned and lightly charred.
Remove pan from heat. Add reserved olive oil mixture to asparagus mixture.
Return pan to high heat; cook 30 seconds or until liquid almost evaporates.
Sprinkle with salt and basil. Serve asparagus mixture with skewers.
Nutritional Information
Calories 233, Fat 10 g, Sat fat 1.2 g, Mono fat 5.8 g, Poly fat 1.5 g, Protein 27 g, Carbohydrate 9 g,
Fiber 3 g, Cholesterol 214 mg, Iron 4 mg, Sodium 482 mg, Calcium 139 mg, Sugars 3 g, Est. added sugars 0g