NEWS from The Corvallis Clinic
Nov. 5, 2018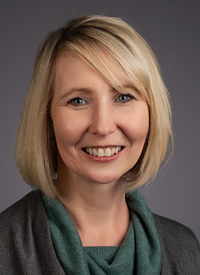 CORVALLIS — Ilene Cann, FNP-C, will join The Corvallis Clinic QuickCare convenience clinics in December.
To make a same-day, online appointment at either QuickCare-Corvallis or QuickCare-Albany, go to www.quickcare.clinic.
Ms. Cann earned a Master of Science– Family Nurse Practitioner, from Gonzaga University in Spokane, WA, in 2017. She is a certified by the American Academy of Nurse Practitioners.
"My general approach to patient care is one of thoughtfulness and curiosity," Ms. Cann said. "Even though, as a provider, we may see certain conditions frequently, to the patient this need or illness is happening to them personally. My aim is to provide the care that I would want for myself or one of my own family members."
Prior to becoming a family nurse practitioner, Ms. Cann worked from 2007 to 2016 in various capacities as a registered nurse for Trillium Family Services at the Children's Farm Home Residential Treatment Center in Corvallis. She has also worked as an RN at The Corvallis Clinic Anticoagulation Department, the Beloit Residential Treatment Center in Ames, IA; and at the Wolfe Clinic, Otolaryngology and Facial Plastic Surgery, in Des Moines, IA.
Shortly after Ms. Cann earned an undergraduate degree in business administration, her father died from brain cancer, a sad time in her life that prompted a change in career path. "A wonderful nurse at the hospital not only gave exceptional care for my dad, but also helped me cope with the grief of losing my father. This experience caused me to reflect on my life – I became dedicated to care for others and to make a positive impact on people's lives. So, I decided to return to school to become a nurse."
After earning a Bachelor of Science in Nursing from George Mason University in Fairfax, Va., she went on to an 18-year nursing career. Then, seeking a "deeper involvement" in providing patient care she decided to become a nurse practitioner. "I enjoy seeing a wide variety of ages and treating a wide variety of needs, and that is what drew me into becoming a family nurse practitioner."
Ms. Cann enjoys photography, gardening, reading and drawing. She and her husband have two sons and a dog and a cat.
QuickCare, a service by The Corvallis Clinic, offers same-day online appointment scheduling and an upfront menu of services and prices. With locations in Corvallis and Albany, QuickCare provides treatment of minor illnesses and injuries, wellness checkups, sports physicals, and preventive care, along with some lab services, for those two years and older. For an appointment, go to www.quickcare.clinic.
The Corvallis Clinic, an independent, physician-led medical group, is a comprehensive multi-specialty organization, serving Benton, Linn and Lincoln counties.  It offers more than 100 board-certified physicians and advanced clinical professionals in 27 specialties at 10 area locations.  As the fourth-largest area employer, The Clinic has 600 employees.