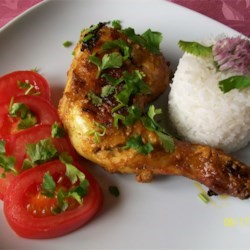 4.5 stars from 229 reviews
Prep Time: 25 min
Cook Time: 20 min
Ready In: 1 day, 45 min
Recipe By:Simmi Gupta
"This is an authentic recipe for Tandoori chicken. Serve with long grain Basmati rice, cucumber salad, grilled veggies, roasted corn on the cob and finish off the meal with Kulfi (Indian ice cream)."
Ingredients
• 2 pounds chicken, cut into pieces
• 1 teaspoon salt
• 1 lemon, juiced
• 1 1/4 cups plain yogurt
• 1/2 onion, finely chopped
• 1 clove garlic, minced
• 1 teaspoon grated fresh ginger root
• 2 teaspoons garam masala
• 1 teaspoon cayenne pepper
• 1 teaspoon yellow food coloring
• 1 teaspoon red food coloring
• 2 teaspoons finely chopped cilantro
• 1 lemon, cut into wedges
Directions
1. Remove skin from chicken pieces, and cut slits into them lengthwise. Place in a shallow dish. Sprinkle both sides of chicken with salt and lemon juice. Set aside 20 minutes.
2. In a medium bowl, combine yogurt, onion, garlic, ginger, garam masala, and cayenne pepper. Mix until smooth. Stir in yellow and red food coloring. Spread yogurt mixture over chicken. Cover, and refrigerate for 6 to 24 hours (the longer the better).
3. Preheat an outdoor grill for medium high heat, and lightly oil grate.
4. Cook chicken on grill until no longer pink and juices run clear. Garnish with cilantro and lemon wedges.
Cook's Notes:
This dish can also be baked in a hot oven (450 degrees F) for 25 to 30 minutes, or until chicken is done.
Coconut Spiced Rice is also a great accompaniment to this dish.
ALL RIGHTS RESERVED © 2019 Allrecipes.com
Printed From Allrecipes.com 5/28/2019
Nutritional Information
Indian Tandoori Chicken
Servings Per Recipe: 4
Amount Per Serving
Calories: 356
% Daily Value *
Total Fat: 18.8 g 29 %
Saturated Fat: 6.0 g
Cholesterol: 102 mg 34 %
Sodium: 734 mg 9 %
Potassium: 575 mg 16 %
Total Carbohydrates: 13.7 g 4 %
Dietary Fiber: 3.3 g 13 %
Protein: 35.6 g 71 %
Sugars: 6 g
Vitamin A: 387 IU
Vitamin C: 45 mg
Calcium: 201 mg
Iron: 2 mg
Thiamin: 0 mg
Niacin: 10 mg
Vitamin B6: 1 mg
Magnesium: 50 mg
Folate: 23 mcg
*Percent Daily Values are based on a 2,000 calorie diet. Your daily values may be higher or lower depending on your calorie needs.
**Nutrient information is not available for all ingredients. Amount is based on available nutrient data.
(-)Information is not currently available for this nutrient. If you are following a medically restrictive diet, please consult your doctor or registered dietitian before preparing this recipe for personal consumption.
Powered by the ESHA Research Database © 2019,
ESHA Research, Inc. All Rights Reserved