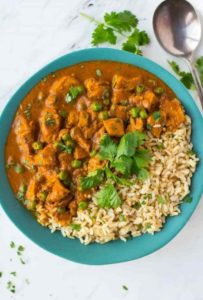 Ingredients
• Chicken. I opted for boneless skinless chicken breasts, which become perfectly moist and flavorful during cooking. (If you're looking for a vegetarian recipe, try this Tofu Tikka Masala.)
• Butter. While I think butter is best in this recipe, you could also try ghee, coconut oil, or extra-virgin olive oil.
• Vegetables. Onion and frozen peas were an easy and tasty addition.
• Garlic and Ginger. Fresh is the way to go with both of these.
• Spices. The secret to the richly flavored tikka curry sauce! I used garam masala, chili powder, cumin, turmeric, and cayenne, which should all be easy to find in your local grocery store.
• Tomato Sauce. Adds incredible flavor with little work.
• Coconut Milk. Gives the sauce creaminess and richness.
• Greek Yogurt. For an extra bump of protein and to make the sauce all the more creamy, I made the Indian chicken tikka masala with Greek yogurt.
• Brown Rice or Naan. For serving! Both of these are delicious for soaking up the scrumptious sauce.
Directions
1. Season the chicken with salt.
2. Melt the butter in the Instant Pot on SAUTE, then add the onion, garlic, ginger, and spices. Cook and stir until fragrant.
3. Add the chicken, cooking until browned. Stir in the tomato sauce. Cover and cook on HIGH pressure for 8 minutes. Vent immediately.
4. Uncover and add the coconut milk. Turn the Instant Pot to SAUTE, and let simmer until thickened. Turn the Instant Pot off, and stir in the peas. Let it cool for a few minutes before stirring in the Greek yogurt. Enjoy with your desired sides and toppings!

Nutritional Information
Amount per serving (1 (of 6), about 5/6 cup with 1/2 prepared brown rice) — Calories: 355, Fat: 10g, Saturated Fat: 5g, Cholesterol: 79mg, Carbohydrates: 32g, Fiber: 4g, Sugar: 5g, Protein: 36g
Source: Well Plated