NEWS from The Corvallis Clinic
Aug. 1, 2018
CORVALLIS — Whether you are an experienced runner of just getting started, get tips from knowledgeable providers to help maximize your performance and minimize injury risk by attending the Prep for the Health of It! free workshops at The Corvallis Clinic on Aug. 27, Sept. 3, 10, 17 and 24, and Oct. 1. To sign up, go www.CorvallisClinic.com/raceprep.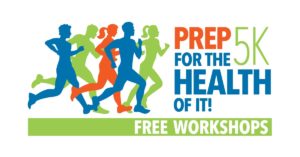 This race prep series is being held in conjunction with The Corvallis Clinic 5K Run/Walk For The Health of It! on Oct. 5. To register for the run/walk, go to Run For The Health of IT!
The workshops will start at 6:30 p.m. and take place in  The Corvallis Clinic Aumann Building, the Board Room,  444 NW Elks Drive, Corvallis. Enter from the rear (south) door. Park in the spaces closest to this entrance.
The workshops entail a 20-minute presentation of practical tips and then a 60-minute practice of the principles learned. Please wear workout clothes.
Series topics and speakers:
Aug. 27, 6:30 p.m. – Why We Run: Michael Johnson, Track and Field Coach, Western Oregon University
Sept. 3, 6:30 p.m. – Physical Foundation for Running: Paul Jaques, DPT, OCS, CSCS, Physical Therapist, The Corvallis Clinic
Sept. 10, 6:30 p.m. – Nutrition and Diet for Runners: The Corvallis Clinic Nutrition Department
Sept. 17, 6:30 p.m. – The Runners' Foot and Shoes: John Murphy, DPM, Podiatrist, The Corvallis Clinic, and Chris Smith, Owner, Five Star Sports
Sept. 24, 6:30 p.m. – Running Injuries: Matt Taylor, M.D., Sports Medicine Physician, The Corvallis Clinic
Oct. 1, 6:30 p.m. – Race Day: Emily Antonishen, DPT, Physical Therapist, The Corvallis Clinic
To view videos from last year's event, go to Race Prep.
The Corvallis Clinic, an independent, physician-led medical group, is a comprehensive multi-specialty organization, serving Benton, Linn and Lincoln counties. It offers more than 100 board-certified providers and advanced professionals in 27 specialties at seven area locations. As the fifth-largest area employer, The Clinic has 600 employees.