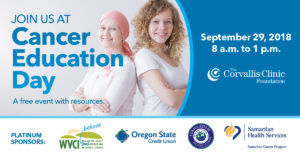 CORVALLIS — Hear a local organic farmer talk about the link between diet and cancer prevention and local oncologists discuss current cancer therapies at The Corvallis Clinic Foundation's Cancer Education Day 2018 on Sept. 29, in the LaSells Stewart Center at Oregon State University, from 9 a.m. to 12:45 p.m.
Registration begins at 8 a.m. for the free event, which feature keynote speakers, informative breakout sessions and a vendor fair with cancer resources. Light food and refreshments will be served. To register, go to www.corvallisclinicfoundation.org/education-day.
Keynote speakers and topics:
Keith Wells, M.D., Willamette Valley Cancer Institute and Research Center: "Immunotherapy: What your T-Cells Can Do For You." Dr. Wells will discuss the current use of therapeutic agents that harness the immune system to fight cancer. He will describe the similarities and differences between these revolutionary cancer therapies and current traditional cancer care. Dr. Wells will also discuss how these emerging immunotherapies fit in with treatment paradigms and their potential to change how we deliver cancer care in the future.
Karla Chambers, co-owner of Stahlbush Island Farms in Corvallis: "Is Food Our Cure?" Chambers will give an evidence-based, easy-to-understand presentation on how healthy eating may aid in preventing cancer.
David Hufnagel, D.O., Samaritan Hematology & Oncology Consultants: "Treatment of Breast Cancer: Past, Present, Future Directions." Dr. Hufnagel will cover the history of early surgical and endocrine treatment of breast cancer, the cooperative group trials (NSABP) that set the standard for treatment in the 70s, 80s, and 90s, and how breast cancer genomics is shaping current treatment.
Breakout sessions:

Survivor panel discussion:
Kelli Warner, Public Relations Manager, Turell Group, Eugene: "Targeting Cancer." Warner is the writer, producer and on-air presenter of "Targeting Cancer," the ongoing cancer education series seen on KVAL News, where she worked as a reporter and anchor for 20 years. The "Targeting Cancer" series is sponsored by Willamette Valley Cancer Institute and Research Center.
Free Parking is available at Reser Stadium across from the LaSells Stewart Center (875 SW 26th St.) on the Oregon State University campus in Corvallis. Free parking is also available at the parking garage just north of LaSells.
Joining The Corvallis Clinic Foundation as sponsors are Willamette Valley Cancer Institute and Research Center, Oregon State Credit Union, Stahlbush Island Farms, and Samaritan Health Services.
The Corvallis Clinic Foundation is a non-profit organization whose mission is to provide resources in the mid-Willamette Valley that support health education, preventive health care, and the delivery of health care to at-risk populations.
The Corvallis Clinic, an independent, physician-led medical group, is a comprehensive multi-specialty organization, serving Benton, Linn and Lincoln counties.  It offers more than 100 board-certified providers and advanced clinical professionals in 27 specialties at nine area locations.  As the fourth-largest area employer, The Clinic has 600 employees.