"Everything you can imagine."
That's the answer one can give, after 35 years as a pediatrician and some 140,000 patient visits, when asked: "So, you've probably faced some interesting challenges in your career, haven't you?"
But challenges that Dr. Edward Schmitt, a longtime Clinic pediatrician who is retiring in early May, wouldn't have missed for anything, as it was during medical school when he it became obvious to him what path in medicine he would take.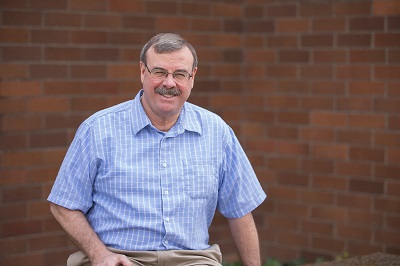 "I was attracted to pediatrics," Dr. Schmitt said, "by both the children – who were often so full of energy and happy even when ill – and by the pediatricians and, particularly, the pediatric residents. They were the most congenial, caring and conscientious role models of my medical student years. I wanted to join their ranks."
His journey to joining their ranks began after earning an undergraduate degree in biochemistry in 1975 from the University of Texas in Austin, the city in which he grew up after his family moved there from the Washington, D.C. suburbs. He earned his Doctor of Medicine degree from Baylor College of Medicine in Houston in 1979.
Dr. Schmitt completed his pediatric residency 1982 at the University of Virginia Hospital at Charlottesville, where he also met his wife, Dr. Nancy Fisher, a now-retired anesthesiologist. They then spent several years on what he called a "dual-career job safari," with stops in Columbia, S.C., Spokane, Wash., and Roseburg.
The economic downturn starting in the mid-1980s in Roseburg put a strain on Dr. Schmitt's private practice. He and his wife began to look elsewhere in the Northwest, settling on Corvallis. "It was a nice town with a stable economy," he said. So, in 1987, he joined what he called a "nice group" of Clinic pediatricians made up of the late Dr. Eldon Younger and Drs. Michael Wong, James Nusrala and John Berry, now all retired, while his wife found a good practice fit first at Good Samaritan Hospital in Corvallis and later at an orthopedic surgery center in Salem.
As can be expected, he has seen many changes since he began his practice in the early 1980s.
"The cost of an average office visit was about $15," he said, "and the cost of a pediatrician providing services to a newborn in the hospital for three days was about $100."
Dr. Schmitt also cited vaccines that had not been invented or were still in trial at the time, such as those to prevent infection by H. influenza (the bacteria that causes the most common and occasionally fatal or crippling form of meningitis in children), along with those for hepatitis A and B, rotavirus, human papilloma virus, chicken pox, and the meningitis that affects young adults as seen in the recent outbreak at Oregon State University.
"I will miss the camaraderie of working with the other folks in the group," said Dr. Schmitt, who served on the Board of Directors from 2005 to 2009 and was board vice-president from 2008-2009. "The constant routine, the challenge of sorting out of people's problems and helping them get to a solution, that's so rewarding."
In retirement, Dr. Schmitt and his wife plan to travel to see those parts of the U.S. and the world that they have missed out on during the past quarter century of occasional vacation travel. For Dr. Schmitt this will probably include continuing medical mission work with Faith in Practice in Central America. In fact, he will be leaving shortly after his last day for a mission in Guatemala. In September, he and his wife plan a month-long visit to Namibia, South Africa and perhaps some of the Indian Ocean islands.
He said other than his work with Faith in Practice, his post-retirement medical activity might also include being a locum tenens in the Northwest – but just for an occasional week or two. "I no longer have a desire to spend multiple months in one place."
And, so, getting back to those "everything-you-can-imagine" challenges: Asked if he could share some good stories, after a pause, Dr. Schmitt said, chuckling: "The good ones can't be retold."