By Lori Dodds, BS, RDN, LD
The Corvallis Clinic
Are you tired of feeling unorganized and exhausted when it comes to meal time?  Do you walk in the door after a long day being greeted by the family asking "What's for dinner?… I'm starving!"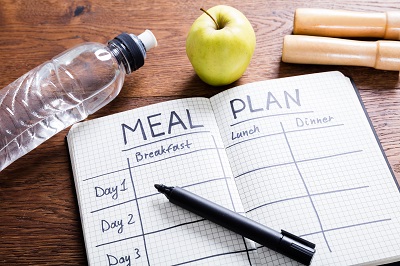 Imagine how you would feel to already have a plan in hand, food in the fridge and some of it already prepared?
Being an empty nester for the past three years, I still take a little time each Sunday to decide what to prepare for just the two of us remaining at home.  I take into consideration what is in season, whether I want to remake a favorite recipe or try something new, and how much time do I want to devote to this task over the upcoming days.
My meal planning usually covers five days at a time, such as Sunday to Thursday.  I concentrate on dinner meals as my breakfast is typically Greek yogurt and nuts and my lunch is either a brown-bagged sandwich, salad or leftovers.
Over the past 20 years, I have saved my favorite recipes, place them in a protected slip cover sheet and created my own version of cookbooks using three ring binders.  When I want to find an already tested, tried and true recipe, it can be very easily accessible.  My goal for meals consists of high quality protein, whole grains, vegetables and typically an artesian style bread with nuts and seeds.  From there I reference my five days of menus and create a very specific grocery list.  This helps keep me on track while shopping and reduces those dreaded impulse purchases.  It also reduces food waste and keeps my budget in check.
The very first thing I do upon returning home with my groceries is to prep as much as possible.  I wash and cut my carrots and celery into large sticks and place them in a glass container with a lid and fill it with water, which I rinse out every other day.  Foods like cauliflower, broccoli and bell peppers I wash and cut into large bite size pieces, wrap in a damp paper towel and semi-open plastic bag and store in my refrigerator veggie drawer.  For fresh asparagus, I trim the bottom ends off and place in a pint glass with a little water that I rinse out daily until they are used.
These methods will not only keep my vegetables fresh for about seven days, but are also made ready for use as a quick snack, tossed in 425 degree oven to roast, cooked on stove-top to stir-fry or make as a healthy quick salad. What a wonderful timesaver, and all it took was about 15 minutes after you've purchased your weekly groceries!
So, are you ready to experience more relaxing and enjoyable meals?  As with most things when trying something new, it takes a little time and practice.  Once you've created your own version of meal planning, I am quite confident it will help relieve stress, encourage healthy eating, and be budget friendly as it helps reduce food waste and those unwanted spontaneous purchases.  I know for myself, when I don't follow these simple practices, I find myself free-falling, frustrated and eating less desirable foods.
Click here more information on meal planning and here to learn how to use a Bullet Journal for meal planning and tracking your food budget.
Until next time, here's to healthy eating!
Lori Dodds is a Registered Dietitian Nutritionist and Licensed Dietitian at The Corvallis Clinic Nutrition Services Department. She is also the Program Coordinator at The Corvallis Clinic Weight Loss Center.