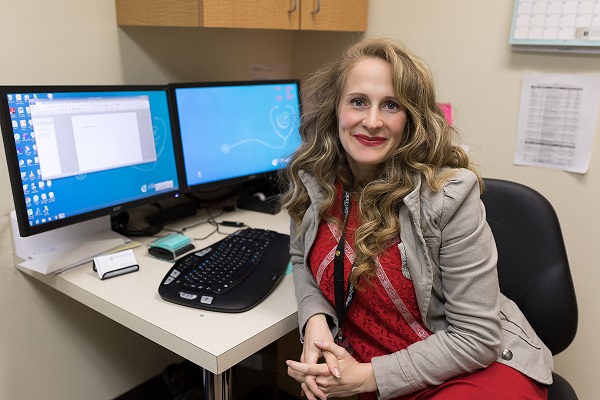 By KEITH BOWERS
FOR THE CORVALLIS CLINIC
Franz Schneider was a bit puzzled when his primary care physician, Corvallis Clinic internist Robert Wirth, M.D., suggested he get his free Medicare Annual Wellness Visit exam through a new program at The Clinic. "Why a new program while I have one of the best doctors I ever had?" asked the professor emeritus of English and Comparative Literature at Gonzaga University.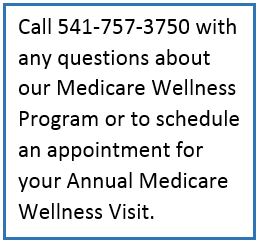 However, Schneider's first visit to the Medicare Wellness Program and its provider, Nurse Practitioner Elisabeth Mahmud (pronounced ma-mood), typified the service's intent – a supplement to a person's primary care provider by offering enhanced access to help ensure one's healthcare needs are met.
After Mahmud went over Schneider's health history, the certified adult-geriatric nurse practitioner discovered a serious problem on his right foot that had developed since his last appointment with Dr. Wirth. "Elisabeth was of practical help right away when she prescribed a medication, which was effective almost immediately," Schneider said. She then referred him to specialty wound care, during which further issues were found and are now being treated.
"Elisabeth was very open and cordial, but altogether very professional," Schneider concluded of his visit. "She demonstrated competence, tact, and thoroughness."
Clarity Sought
The Clinic's Chief Medical Officer Lance McQuillan, M.D., said what prompted The Clinic to spearhead the program's creation was the "tremendous confusion" among patients, staff, and providers concerning the difference between a Medicare Annual Wellness Visit and a traditional physical exam.
"As a result," Dr. McQuillan said, "we were not providing the Annual Wellness Visit as often as we should have been. It's a good service that's free to patients, and it is a nice way to ensure that we're covering all the screening and prevention recommendations."
In the Annual Wellness Visit, Mahmud asks about patient risk factors, medications, recent tests, and any chronic conditions that might exist. In addition, Mahmud offers disease-prevention counseling and information on available resources. An annual comprehensive exam or annual physical visit with a primary care provider, on the other hand, is a "hands-on" appointment.
"Traditionally, primary care providers have completed both in one long visit," Dr. McQuillan said. "This can result in a rushed appointment, leaving providers little time to focus on the physical exam and even less time for patients to bring up the often multiple health concerns that arise over the year."
Mahmud doesn't replace a patient's primary care provider, but rather she and the wellness exam supplement that care. All Medicare and Medicare Advantage-plan patients who have their primary care at The Corvallis Clinic are eligible to participate in The Clinic's Wellness Visit Program. The Annual Wellness Visit is part of a Medicare Program that also includes an initial free visit called Welcome to Medicare, which Mahmud provides as well.
Daniel Barrett, M.D., a family medicine physician at The Clinic, said Mahmud performing the wellness exams allows him to spend more time with patients on specific health issues.
"She makes a positive impact on efficient health care delivery," Dr. Barrett said. "I can focus on management of the chronic conditions and physical exam."
Her Path to Adult-Gerontology Primary Care
Mahmud said her road to becoming an adult-geriatric nurse practitioner began when she was a nursing assistant, and she was moved by hearing stories that older patients would tell.
"Usually, people of this generation like to tell stories," she said, "and there is no one better to learn from than someone who's been around for a long time and had a lot of experiences."
She observed that when someone listened to them, it helped these patients heal emotionally. Mahmud earned a master's degree in psychology and worked for a time as a counselor but eventually found that she wanted to help patients take charge of their physical health as well.
"I want patients to understand their health and be put on a healing path," Mahmud said.
Before joining The Clinic, Mahmud was a nurse practitioner at Crown Health Medical House Call Service in Maple Valley, Wash., from 2016 to 2017. She earned a Master of Science in Nursing from Seattle University in 2016 and is certified by the American Academy of Nurse Practitioners Certification Board in Adult-Gerontology Primary Care.
"Patients really enjoy working with her"
One patient of Mahmud (who asked not to be identified by name) described the Annual Wellness Visit as "very positive," adding that "there seemed to be no time constraints as there normally are when seeing my doctor."
The patient said Mahmud "reviewed my health records with me, asked relevant questions about my current health, and responded appropriately to my answers."
The patient concluded that "it is probably advantageous for most patients to spend time having a 'casual conversation' with a well-informed health professional before seeing their primary care providers."
"Having this service take place through Elisabeth has provided a nice level of consistency and predictability," Dr. McQuillan said. "Plus, Elisabeth is a wonderful provider who is a great addition to the care team. Patients really enjoy working with her."