Thinking of making a New Year's resolution?  Since most of them flat-out fail within the first six months, let's change things up!  Instead,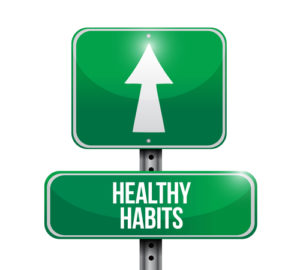 focus your efforts on these practical and sensible 10 steps that will help lead you into a happier and healthier 2018.
WATER: Drink 8-12 (8 oz.) glasses of water each day. Our bodies are composed of 60 percent water and continuously lose fluid through breathing, skin evaporation, urine and stools. It is important to stay hydrated in order to maintain proper bodily functions such as for brain and kidney especially.
PROTEIN: Consuming 20-30 grams of lean protein three times per day will help decrease hunger and aid in sustaining lean muscle mass particularly during weight loss. Protein takes longer to digest therefore helps maintain more desirable blood sugar levels.  Protein also boosts metabolism!  The Corvallis Clinic Weight Loss Center offers metabolic testing and is usually covered by insurance.
FIBER: The American Heart Association recommendation for adults is 25-30 grams per day.  Fiber helps normalize and maintain bowel health, lowers blood cholesterol, aids in controlling blood sugars and contributes toward achieving a healthy weight.
FRUITS and VEGETABLES: Research indicates that consuming a diet rich in produce helps lower the risk for many chronic diseases and possibly cancer.  Strive for 2-3 cups of vegetables and 1.5-2 cups of fruit each day.
BREAKFAST: "Break-the-fast" and consume your first meal within 1-2 hours of wakening.  As with other meals, a healthy breakfast should consist of a variety of whole, unprocessed foods, such as fruits, vegetables, whole grains, low-fat dairy and lean protein. Studies support that eating adequate protein at breakfast will help reduce night time hunger and food cravings.
BE MINDFUL: Pay attention and be present! Recognize why you eat, how much you eat and what foods you choose. Practicing this technique will help you gain control of your eating habits, reduce bingeing, aid in weight loss and help improve your overall sense of well-being.
PHYSICAL ACTIVITY: Adult recommendations are 2.5 hours per week of moderate exercise or 1.25 hours of high-intensity activity.  In general, the more physically active you are, the greater the health benefits.
MONITOR STEPS: Fitness trackers can be a very powerful tool.  Recognize long sedentary times and get up and move every 30-40 minutes. Striving towards 10,000 steps daily helps ensure that you have an active lifestyle.
COPING SKILLS: There are many benefits to learning and utilizing positive coping strategies when confronting emotions and responding to stressful situations. Incorporating constructive coping skills can help you overcome and manage stress and emotional turmoil.
THINK POSITIVE:  Do you have an optimistic or pessimistic personality?  Only you have the power to decide how to take on and address each day. Stop any tendency for negative self-talk and instead incorporate positive thinking when dealing emotions and stressful situations. Research has shown that having a positive outlook may increase life span, lower rates of depression and stress as well as enhance psychological and physical well-being.
So, let's swap out those sure-to-fail fad diets and nonsensical New Year's resolutions for useful and science-based strategies that will improve your eating habits, enhance your overall health and help lead you happiness and joy in 2018!
Until next time, here's to healthy eating!
Lori Dodds is a Registered Dietitian Nutritionist and Licensed Dietitian at The Corvallis Clinic Nutrition Services Department. She is also the Program Coordinator at The Corvallis Clinic Weight Loss Center.