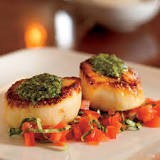 RECIPE BY COOKING LIGHT
Entertain on the fly with a quick-cooking and delicious scallop dinner.
Ingredients
• 1 1/2 pounds sea scallops
• 1/4 teaspoon salt
• 1/4 teaspoon black pepper
• Cooking spray
• 1/4 teaspoon grated lemon rind
• 2 tablespoons fresh lemon juice
• 2 tablespoons balsamic vinegar
• 2 teaspoons olive oil
• 1/2 teaspoon bottled minced garlic
• 2 cups grape tomatoes
• 3 tablespoons commercial pesto
• 1 tablespoon chopped fresh basil
Directions
Step 1
• Heat a large cast-iron skillet over high heat. Pat scallops dry with paper towels; sprinkle with salt and pepper. Lightly coat pan with cooking spray. Add scallops to pan; cook 2 minutes on each side or until golden brown. Remove scallops from pan; keep warm. Reduce heat to medium. Add rind and next 4 ingredients (through garlic) to pan; bring to a simmer. Add tomatoes; cook 45 seconds, tossing to coat.
Step 2
• Spoon about 2 teaspoons pesto on each of 4 plates. Arrange one-quarter of scallops and about 1/2 cup tomato mixture on each plate. Sprinkle with basil.
Chef's Notes
• For a golden-brown crust on the scallops, don't disturb them while they cook except to turn them over.

Nutritional Information
Calories 252
Calories from fat 33%
Fat 9.1g
Sat fat 1.9g
Mono fat 5g
Poly fat 1.1g
Protein 31.4g
Carbohydrate 10.4g
Fiber 1.3g
Cholesterol 60mg
Iron 1.4mg
Sodium 517mg
Calcium 133mg