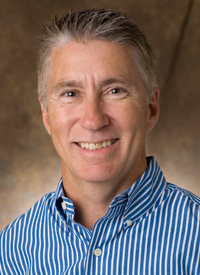 The Corvallis Clinic is saying "goodbye" to its beloved podiatrist of 32 years, John Murphy, DPM. 
While Dr. Murphy looks forward to retirement, he expressed that he will miss serving generations of families as he has over the years. 
"I've had several families where I've seen three generations of, from the grandparents to their children, to their grandchildren. I consider them friends. We'd trade stories about gardening and traveling and things that they'd like to do. They know my kid's names, and I know their kid's names. It's hard walking away from that. I'll miss being part of their care."
He has always loved being able to find solutions for patients and being a caregiver for our community. He enjoyed watching many patients leave with smiles on their faces over the years and will miss that. For decades, Dr. Murphy was able to be part of "something bigger than himself." He always appreciated the patient-first, personal experience he could provide his patients at The Corvallis Clinic. 
Dr. Murphy has been an integral part of The Corvallis Clinic since November 1, 1988. He was the first podiatrist to serve in the clinic and the first podiatrist in the Willamette Valley to be awarded staff surgical privileges at Good Samaritan Regional Medical Center in Corvallis. 
When The Corvallis Clinic established its Surgery Center in 2007, Dr. Murphy took on the role of Medical Director of the Surgery Center. He recalled the excitement he felt being part of the initial setup of the facility. For approximately six years, he served as the Medical Director of the Surgery Center. It was the first outpatient surgery center to serve the mid-Willamette Valley. 
When asked what he most looks forward to in retirement, he mentioned slowing down, spending time with friends and family, gardening, and that second cup of coffee in the morning with his wife. 
Brett Waverly, DPM, succeeds Dr. Murphy. Dr. Waverly is currently accepting new patients and referrals at The Corvallis Clinic's Asbury building in Corvallis and The Corvallis Clinic at Waverly Drive, Albany.
The Corvallis Clinic is an independent, physician-led medical group and a comprehensive multi-specialty organization serving Benton, Linn, and Lincoln counties. It offers more than 100 board-certified physicians and advanced clinical professionals in 27 specialties at 10 area locations. As one of the largest employers in the area, The Corvallis Clinic has more than 600 employees.