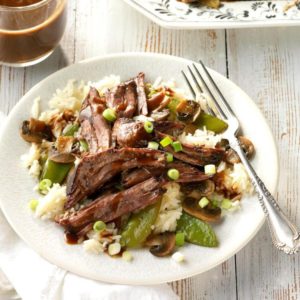 Ingredients
1 boneless beef chuck roast (3 to 4 pounds)
1/2 teaspoon salt
1/2 teaspoon pepper
1 tablespoon olive oil
1 medium onion, cut into 1-inch pieces
3/4 cup Asian black bean sauce
1/4 cup reduced-sodium beef broth
1/2 pound sliced fresh mushrooms
8 ounces fresh snow peas, trimmed
1 tablespoon cornstarch
1 tablespoon cold water
Hot cooked rice
4 green onions, sliced
How to Make It
 Sprinkle roast with salt and pepper. In a large skillet, heat oil over medium-high heat. Brown roast 3-4 minutes on each side. Transfer to a 6-qt. slow cooker. Add onion. Whisk together black bean sauce and broth; pour over roast. Cook, covered, on low 5-6 hours.
 Add mushrooms and snow peas; continue cooking on low until meat is tender, about 30 minutes.
 Remove roast and vegetables to a serving platter; keep warm. Transfer cooking juices to a small saucepan; skim fat. Bring cooking juices to a boil. In a small bowl, mix cornstarch and cold water until smooth; stir into cooking juices. Return to a boil; cook and stir 1-2 minutes or until thickened. Serve roast with hot cooked rice and sauce. Sprinkle with green onions.
Nutritional Information
1 serving: 281 calories, 14g fat (5g saturated fat), 89mg cholesterol, 602mg sodium, 8g carbohydrate (4g sugars, 1g fiber), 29g protein. Diabetic Exchanges: 3 lean meat, 1/2 starch.