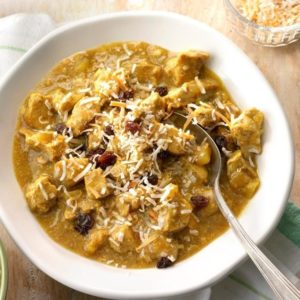 Ingredients
2 pounds boneless pork loin roast, cut into 1-inch cubes
1 small onion, chopped
1/2 cup orange juice
1 tablespoon curry powder
1 teaspoon chicken bouillon granules
1 garlic clove, minced
1/2 teaspoon salt
1/2 teaspoon ground ginger
1/4 teaspoon ground cinnamon
1 medium apple, peeled and chopped
2 tablespoons cornstarch
2 tablespoons cold water
Hot cooked rice, optional
1/4 cup raisins
1/4 cup sweetened shredded coconut, toasted
Directions
In a 6-qt. electric pressure cooker, combine the first 9 ingredients. Lock lid; close pressure-release valve. Adjust to pressure-cook on high for 3 minutes. Quick-release pressure. A thermometer inserted in pork should read at least 145°.
Add apple to pressure cooker. In a small bowl, combine cornstarch and water until smooth; stir into pressure cooker. Select saute setting and adjust for low heat. Simmer, stirring constantly, until thickened and apple is tender, 3-5 minutes.
If desired, serve with rice. Sprinkle with raisins and coconut.
Nutritional Information
2/3 cup: 174 calories, 6g fat (2g saturated fat), 57mg cholesterol, 287mg sodium, 8g carbohydrate (4g sugars, 1g fiber), 22g protein. Diabetic Exchanges: 3 lean meat, 1/2 starch.
Source: Taste of Home