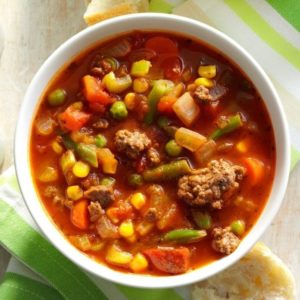 Ingredients
1 pound lean ground beef (90% lean)
3-1/2 cups water
1 jar (24 ounces) meatless pasta sauce
1 package (16 ounces) frozen mixed vegetables
1 can (10 ounces) diced tomatoes and green chiles, undrained
1 cup chopped onion
1 cup sliced celery
1 teaspoon beef bouillon granules
1 teaspoon pepper
Directions
Select saute or browning setting on a 6-qt. electric pressure cooker; adjust for medium heat. Cook beef until no longer pink, 6-8 minutes, breaking into crumbles; drain. Press cancel. Stir in remaining ingredients. Lock lid; close pressure-release valve. Adjust to pressure-cook on high for 5 minutes. Let pressure release naturally. Freeze option: Freeze cooled stew in freezer containers. To use, partially thaw in refrigerator overnight. Heat through in a saucepan, stirring occasionally and adding a little water if necessary.
Nutritional Information
1-1/2 cups: 177 calories, 5g fat (2g saturated fat), 35mg cholesterol, 675mg sodium, 19g carbohydrate (8g sugars, 5g fiber), 15g protein. Diabetic Exchanges: 2 lean meat, 1 starch.
Source: Taste of Home