Ed Kelly was named The Corvallis Clinic's CEO in August 2018. In the Q&A below, he talks on such topics as why he chose a career in healthcare administration, the challenges The Clinic and healthcare organizations in general face, and what he enjoys doing in his free time.
Note: For details on his background, go to Edward Kelly named new chief executive officer of The Corvallis Clinic.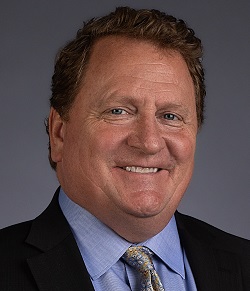 What made you choose healthcare as a career?
My father was one of the first internal medicine physicians in a small central Minnesota town in which I grew up. I saw how much influence he had on peoples' lives. People would walk up to him at church and they would say such things as, "Thanks so much for helping my family." Hearing such comments made a big impact on me.  I've always been around health care. I'm very passionate about it; it never gets old with me. I love it. To be there to help people in a time of need is a privilege I take very seriously.
What brought you to The Corvallis Clinic? Why did you want to become its CEO?
I saw The Clinic as a good fit in many ways. First, it has a strong reputation for delivering quality medical care and has a long history of a collaborative culture among its physicians. The physicians and staff I talked to during my interviews just reinforced to me how committed everyone is to The Clinic and the community. Secondly, the location. The Willamette Valley is just a beautiful part of the world that my fiancé and I are looking forward to becoming part of the community and partaking in multiple outdoor activities.
What are the challenges facing health care in general and The Clinic specifically?
The transition from a "fee-for-service" payment model to a "fee-for-value" model is a major challenge facing healthcare organizations, especially independent, physician-owned medical groups, such as The Clinic. As someone who has managed many physician-owned groups in my career, I believe strongly it's important for The Clinic physicians to remain independent, and I'm going to work very hard to maintain their independence as payers move away from paying providers based on the amount of healthcare services they provide to one based on patient health outcomes.
For me, no matter how medical groups are reimbursed by insurance, meeting the challenge to remain successful comes down to a three-step process:
• Identify, recruit and retain talent – both providers and staff.
• Provide staff and providers the proper support, training and respect
• Continue to grow the size and scope of services of The Clinic
Focusing on these three core priorities will help The Clinic produce better medical outcomes and perform better financially as healthcare transitions to a "fee-for-value" reimbursement basis as well as meet the medical needs of the community. And, remaining financially healthy will help The Clinic retain its independence.
What are your main goals as CEO of The Clinic?
I want to make sure we have the appropriate medical specialties to meet the needs of the community.  Quality is obviously very important, but healthcare needs to be convenient and reliable.
A high level of service is also critical. Patients are the customers, and we need to make sure we meet their overall needs.
What do you believe is the advantage of a physician-owned medical group?
I go back to my father and his independent group that eventually grew to more than 300 physicians. I also use my 25-plus years of experience of managing physician-owned groups. What I have observed is that there is a real passion, a passion for excellence. I'm not saying that non-physician owned medical groups are devoid of this. But physicians who are part of a physician-owned group just have, I feel, an extra layer of commitment, a vested interest in being successful in all ways, including providing value to the community it serves.
What does this mean? It means we are going to be really careful who we hire. Physician-owned medical groups hold everyone to a higher standard with the quality and the level of overall service being paramount. I believe that this translates to a very high level of care and service to our patients.
What are your outside interests?
I enjoy spending time with my fiancé, staying in touch with my two grown children, volunteering, reading, tennis, aviation, hiking, cycling and skiing, both cross country and downhill.