Note: To view a video of Dr. Julyan talking about his practice and himself, go to Richard Julyan, M.D.
CORVALLIS — Richard "Rich" Julyan, M.D., a family medicine physician, will begin seeing patients at The Corvallis Clinic at Waverly Drive-Albany in mid-January. To make an appointment, call 541-967-8221; to request an appointment online, go to New Patient Appointment Request.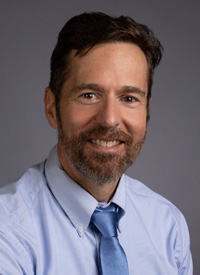 Dr. Julyan (Ju-lee-in) comes to The Clinic from Asante Physician Partners, in Medford, where he was a staff physician. He also practiced at La Clinica in Medford from 2008 to 2018.
Certified by the American Board of Family Medicine, Dr. Julyan completed his residency at Banner Health, North Colorado Family Medicine, in Greely, CO, in 2009. He earned his Doctor of Medicine from the University of Pittsburgh School of Medicine, in Pittsburgh, PA, in 2005.
Dr. Julyan loves the variety of a family medicine practice. "I can see an infant one visit, an elderly patient the next – and then all ages in between. I can help someone manage diabetes, offer preventive health tips, or provide women's health care." Conversation is a big part of the role he has in his patients' health and personal lives. "I like for the patient to have time to tell me their concerns. To a certain extent, part of the physician-patient bond is talking to each other about personal things."
Dr. Julyan, who has a son, grew up in the Olympic Peninsula of Washington where he developed his love of the outdoors, which he now shares with his wife. An avid cyclist, he competes in amateur road, mountain-bike and cyclocross races.
The Corvallis Clinic, an independent, physician-led medical group, is a comprehensive multi-specialty organization, serving Benton, Linn and Lincoln counties.  It offers more than 100 board-certified physicians and advanced clinical professionals in 27 specialties at 10 area locations.  As the fourth-largest area employer, The Clinic has 600 employees.