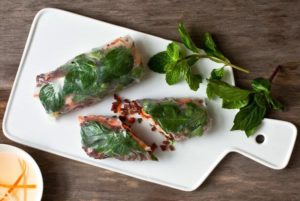 On the surface this looks like a classic spring roll, with the shrimp beautifully displayed against the thin rice flour wrapper. Inside, though, red jasmine rice replaces the traditional rice noodles, and the vegetables are seasoned. You can find red jasmine rice at Whole Foods, distributed by Alter Eco. Bhutanese rice or brown rice may be substituted if you can't find it.
Ingredients:
1 ¾ cups cooked red jasmine rice
¼ cup rice vinegar
2 teaspoons soy sauce
2 large carrots, peeled and grated
1 small red bell pepper, seeded and cut in thin julienne
2 teaspoons black sesame seeds or toasted regular sesame seeds
½ cup coarsely chopped cilantro, plus additional sprigs
⅓ cup mint leaves, coarsely chopped, plus additional leaves
¼ cup Thai basil, coarsely chopped, plus additional leaves
Salt to taste
8 to 10 inner romaine lettuce leaves, cut in chiffonade (crosswise strips)
12 large fully cooked shrimp, cut in half lengthwise
8 8 1/2-inch rice flour spring roll wrappers
Preparation: 1. Toss the rice with 1 tablespoon of the rice vinegar and the soy sauce 2. Place the shredded carrots, peppers, sesame seeds and chopped herbs in a large bowl and toss with 2 tablespoons of the rice vinegar and salt to taste. Place the lettuce in another bowl and toss with the remaining vinegar and salt to taste. 3. Fill a bowl with warm water and place a spring roll wrapper in it just until it is pliable, about 30 seconds. Remove from the water and drain briefly on a kitchen towel. Place the wrapper on your work surface in front of you and arrange several whole mint, cilantro and basil leaves, vein side up, on the wrapper. Arrange 3 shrimp halves, cut side up, down the middle of the wrapper, leaving a 2-inch margin on the sides. Top with a handful of the carrot mixture, then with a handful of lettuce. Place a handful of rice over the lettuce. Fold the sides in, then roll up the spring rolls tightly, squeezing the filling to get a tight roll. Refrigerate until ready to serve. Serve with a dipping sauce of your choice.
Nutritional analysis per serving (8 servings):
208 calories
1 gram fat
0 grams saturated fat
0 grams trans fat
0 grams monounsaturated fat
0 grams polyunsaturated fat
41 grams carbohydrates
2 grams dietary fiber
2 grams sugars
6 grams protein
18 milligrams cholesterol
507 milligrams sodium