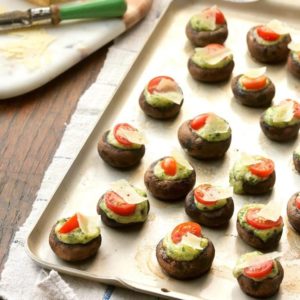 Ingredients
24 baby portobello mushrooms (about 1 pound), stems removed
1/2 cup reduced-fat mayonnaise
3/4 cup shredded Asiago cheese
1/2 cup loosely packed basil leaves, stems removed
1/4 teaspoon white pepper
12 cherry tomatoes, halved
Sliced Parmesan cheese, optional
Directions
1. Preheat oven to 375°. Place mushroom caps in a greased 15x10x1-in. baking pan. Bake 10 minutes. Meanwhile, place mayonnaise, Asiago cheese, basil and pepper in a food processor; process until blended.
2. Drain juices from mushrooms. Fill each with 1 rounded teaspoon mayonnaise mixture; top each with a tomato half.
3. Bake 8-10 minutes or until lightly browned. If desired, top with Parmesan cheese.
Nutritional Information
1 appetizer: 35 calories, 3g fat (1g saturated fat), 5mg cholesterol, 50mg sodium, 2g carbohydrate (1g sugars, 0 fiber), 2g protein.
Source:
Taste of Home