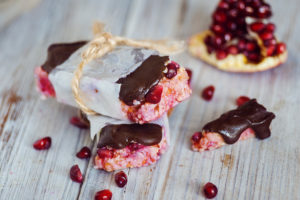 Super
Yields: 6 servings | Calories: 260 | Total Fat: 19g | Saturated Fat: 4g | Trans Fat: 0g | Cholesterol: 0mg | Sodium: 4mg | Carbohydrates: 19g | Fiber: 5g | Sugar: 7g | Protein: 8g | SmartPoints (Freestyle): 9
Ingredients
1/3 cup quinoa, pre-rinsed
2/3 cup water
1/2 cup raw almonds with skin
1/2 cup pomegranate seeds, (fresh or frozen)
1 tablespoon ground flax seed
1/3 cup natural peanut butter (almond butter is an option)
1/4 cup dark or semisweet chocolate chips
1 tablespoon coconut oil
Instructions
Note: Pomegranate seeds can be found in most freezer sections next to the frozen berries. Recommend they be thawed before using. Also, fresh pomegrante seeds can be used. Check out How to Seed a Pomegranate.
Add quinoa and water to a small sauce pan, cover and bring to a boil. Reduce heat to a simmer and cook approximately 15 minutes or until all water has been absorbed. Cool to room temperature and refrigerate at least 2 hours (overnight is best).
Add almonds to the food processor and pulse until finely minced. Be careful not to turn the almonds into mill. Add almonds, pomegranate, flax, peanut butter and cold quinoa to the food processor and pulse until ingredients are well combined.
Shape into 6 – 2″ x 1″ bars, about 1″ thickness. Place on parchment line cookie sheet and refrigerate.
In a small saucepan or double boiler, melt chocolate chips and coconut oil over low heat. Once melted, evenly spread a thin layer of chocolate over the top of each protein bar, return to the refrigerator and allow chocolate to harden.
Bars can be stored in an airtight container, refrigerated.