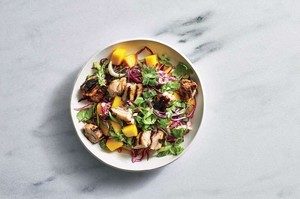 Tahini Chicken with Bok Choy and Mango Salad
Active Time 15 Mins
Total Time 20 Mins
Yield Serves 4 (serving size: about 1 1/2 cups bok choy mixture and 3/4 cup chicken)
Paige Grandjean
Cooking Light
October 2017
Tahini and honey create a beautifully charred crust on boneless, skinless chicken thigh and transform this everyday protein. Make sure the tahini is stirred until smooth and pourable before measuring. If you can't find mango, you can substitute navel orange sections. You can also double the chicken and tahini mixture and serve over tabbouleh or in vegetable wraps for quick lunches during the week.
Ingredients
• 3 tablespoons tahini (sesame seed paste), well stirred
• 4 teaspoons honey, divided
• 4 (4-oz.) skinless, boneless chicken thighs
• 1 tablespoon canola oil
• 1/2 teaspoon kosher salt
• 1/4 teaspoon black pepper
• 2 tablespoons toasted sesame oil
• 2 tablespoons unseasoned rice vinegar
• 1 tablespoon reduced-sodium soy sauce
• 4 cups thinly sliced baby bok choy
• 2 cups thinly sliced red cabbage
• 1 1/2 cups chopped peeled mango
• Fresh cilantro leaves
How to Make It
Step 1
Combine tahini and 1 tablespoon honey in a small bowl, stirring with a whisk. Heat a grill pan over medium-high. Rub chicken thighs with canola oil; sprinkle with salt and pepper. Add chicken to pan; cook 4 to 5 minutes on each side or until done. Brush tahini mixture over both sides of chicken; cook 30 seconds on each side or until lightly charred. Remove chicken from pan; cut into 1-inch pieces.
Step 2
Combine remaining 1 teaspoon honey, sesame oil, vinegar, and soy sauce in a large bowl. Add bok choy, cabbage, and mango; toss to coat. Divide salad evenly among 4 bowls; top with chicken. Sprinkle evenly with cilantro.

Nutritional Information
• Calories 375
• Fat 21g
• Sat fat 3g
• Unsat fat 17g
• Protein 26g
• Carbohydrate 22g
• Fiber 3g
• Sodium 551mg
• Calcium 11% DV
• Potassium 15% DV
• Sugars 16g
• Added sugars 6g