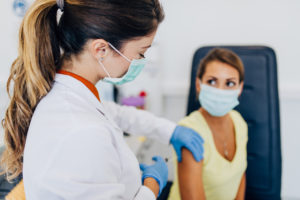 More than ever, society realizes the dangerous reality of what can occur when an illness is left unchecked. During this time of COVID-19, many are forgetting other viruses that can impact health. Understanding all of your preventative medicine options is essential in making an educated choice about how you'll protect yourself and your community.  
Most find the flu is harmless, but for some, it can potentially lead to hospitalization, or even be fatal. Some patients have symptoms for a few days and then return to their everyday lives, unaware that what they survived, others may not. The CDC estimated 38,230 influenza-related deaths in the United States during the 2016-2017 season; this number points to the need for the modern flu vaccine, which many people don't take advantage of.
Taking preventative measures against influenza may seem trivial, but can impact someone's life. Deciding to get a flu shot is choosing to be proactive about your health. Dr. Nicolette Rosendahl, an Internal Medicine provider for The Corvallis Clinic, says, "Preventive medicine, including the flu vaccine, is one way we can take care of ourselves and others who are more vulnerable in our community."
If you're not concerned about the health ramifications of skipping your flu vaccination, consider the financial possibilities. Some may need to miss work if they become sick, which can be financially exhaustive to their household. If someone is hospitalized due to the flu, bills can be astronomical for medical services that could've been avoided. While health should always be a priority, other factors point to the benefits of getting vaccinated.
The flu vaccine is a simple, yearly administration, which is an essential piece of preventative medicine. However, each shot is only effective for the current flu season. Modern flu shots are safe and effective, as long as the individual has been cleared to receive the vaccination by a healthcare professional. The CDC recently released information confirming that flu vaccines are not correlated to COVID-19 and will not impact risk.  
Getting the flu shot means protecting yourself and those around you who are medically vulnerable. Being able to receive immunizations is a privilege. Some cannot get the flu vaccination due to compromised immune systems. Those who can get a flu shot, but choose not to, risk exposing someone who may suffer from the virus. When considering whether to get a flu vaccination, consider those you're close to, or are in your household. If someone you know is immunocompromised, you can do your part to stop the flu spread.
You can schedule your flu vaccination appointment with our team, with your primary care provider, or with our Drive-Thru Flu Clinic. "Getting a flu vaccine is more important than ever this year as a way to protect yourself, your family, and your community from flu. The drive-up flu clinic will allow us to safely vaccinate while maintaining social distancing and preserving personal protective equipment for essential healthcare visits," says Helen Lee, Director of Clinical Services and Education. This will be The Corvallis Clinic's first-ever drive-thru flu clinic for patients and the community.
"We have an unwavering desire to ensure our community receives exceptional evidenced-based care, regardless of the difficulties presented to us at the moment. We worked hard to find a solution to this year's flu clinic that lived up to our values as a company and would be safe for the public. That is how we arrived at the conclusion that we needed to provide a drive-thru flu clinic. We are extremely excited to offer this innovative approach to our patients and the community," says Matthew Parrish, Clinical Services Policy and Pharmaceutical Coordinator.
Receiving a flu shot means guarding your health and your community. You have the power to protect others, and all it takes is a quick vaccine.