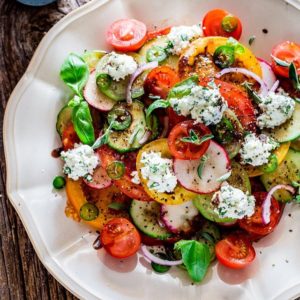 Ingredients
 1 1/2 tablespoons extra-virgin olive oil
 1 tablespoon balsamic vinegar
 3/8 teaspoon kosher salt, divided
 3/4 teaspoon freshly ground black pepper, divided
 2 garlic cloves, minced
 1/3 cup part-skim ricotta cheese
 2 tablespoons minced fresh basil
 2 pounds heirloom tomatoes, cut crosswise into 1/2-inch slices
 1/4 cup torn fresh basil leaves
How to Make It
Combine oil, vinegar,
1/4 teaspoon salt,
1/4 teaspoon pepper, and garlic in a bowl, stirring with a whisk.
Combine ricotta and 2 tablespoons minced basil in a bowl, stirring with a whisk. Arrange tomato slices on a platter; sprinkle with remaining 1/8 teaspoon salt, remaining
1/2 teaspoon pepper, and 1/4 cup torn basil leaves.
Drizzle oil mixture over salad. Dollop ricotta mixture evenly over tomato slices.
Nutritional Information
Calories 122, Fat 7.2g, Sat fat 1.8g, Mono fat 4.3g, Poly fat 0.8g, Protein 5g, Carbohydrate 11g, Fiber 3g, Cholesterol 6mg, Iron 1mg, Sodium 219mg, Calcium 91mg, Sugars 7g, Est. added sugars 0g
JO COOKS @JOCOOKS