By Julie Carrico, MBA, CCRC
In our work at The Clinical Research Center we have observed that patient ownership for managing Type 2 diabetes runs the gamut from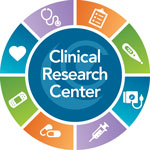 Rocky Balboa's "Eye of the Tiger" to Doris Day's "Que Sera Sera."  For example, some people leave their physician's office and immediately develop a strategy to plan meals, exercise, and lose weight. Other people, well, not so much. These people might need more than an official diagnosis to motivate them – perhaps an experience with low blood sugar (hypoglycemia) or the development of additional symptoms such as loss of sensation or tingling in their feet and toes (diabetic neuropathy).
I know a person – we'll call her Jane – who carried the diagnosis of "prediabetes" for several years during which her mother and two siblings were insulin-dependent Type 2 diabetics.  Jane continued not exercising and eating fast food, blaming it on her lack of time.  Jane was aware that diabetes could lead to blindness, kidney disease, and limb amputation.  It wasn't until her mother's diabetes advanced to the point of requiring kidney dialysis that Jane realized lifestyle changes were mandatory.  Diabetes is a progressive disease. So, while I'm glad Jane is motivated to improve her health, I wish she'd done it sooner!
In the past 15 years, our site has participated in over 40 clinical studies to evaluate new and improved medications for diabetes.  When our site started participating in diabetes studies medication options were limited to a few oral drugs and insulin – boy, has that changed!  Today there several new classes of treatment that offer many more oral treatments with much fewer side effects.  In addition, today we even have treatments that are only administered once-per week.
But don't take just my word for it.  Here is what a couple of former patients had to say about the benefit of being in a study:
"Controlling my diabetes much better" – CF
"Learning more about the medications available and how type 2 diabetes works" – NS
And my personal favorite:
"I have never seen so many people watching my health at the same time" – JG
My question for complacent Type 2 diabetic patients is: What's it going to take?  Type 2 diabetes clinical trials at The Clinical Research Center are one way to help you and support you while you get on track.  The rest is up to you!
The Clinical Research Center is currently seeking volunteer participants in studies for a vaccine to prevent exacerbation in people with chronic obstructive pulmonary disease (COPD) and endometriosis.  We expect to have 4 different Type 2 diabetes studies open in the next few months. Click here if you'd like to be contacted about one of these studies.
If you are interested in learning more about clinical trials, contact the Clinical Research Center at 541-766-2163 or send an email to research@corvallisclinic.com. Or, follow us on Facebook at https://www.facebook.com/corvallisclinicresearch.
– Julie Carrico is Associate Coordinator of The Corvallis Clinic Clinical Research Center and a Certified Clinical Research Coordinator.