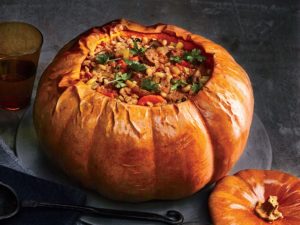 Ingredients
• 3 tablespoons olive oil, divided
• 4 pork Italian sausages (12 oz.)
• 12 ounces cremini mushrooms, quartered
• 1 tablespoon butter
• 6 garlic cloves, chopped
• 2 celery stalks, chopped (about 1 cup)
• 1 large red onion, chopped (about 2 cups)
• 1 1/2 teaspoons berbere spice blend (optional)
• 1/4 teaspoon ground cardamom
• 2 1/2 cups unsalted chicken stock (such as Swanson)
• 1 3/4 cups frozen black-eyed peas
• 3/4 teaspoon kosher salt
• 1 cup uncooked farro
• 1/2 pound baby red potatoes, quartered
• 2 large carrots, cut into 1/2-in.-thick slices
• 1 (10- to 12-lb.) Long Island Cheese pumpkin
• 1 (28-oz.) can unsalted whole tomatoes
• 1/4 cup chopped fresh flat-leaf parsley

How to Make It
Step 1
Heat 1 tablespoon olive oil in a large saucepan or Dutch oven over medium heat; swirl to coat. Add sausages; cook 6 minutes or until browned on all sides. Remove to a large plate; when cool enough to handle, cut into 1/2-inch-thick slices. Increase heat to medium-high; add 1 tablespoon olive oil to pan. Add mushrooms; sauté 7 minutes. Transfer mushrooms to plate with sausage. Add butter and remaining 1 tablespoon oil to pan. Add garlic, celery, and onion; cook 5 minutes. Add berbere and cardamom; sauté 1 minute, stirring constantly. Add stock, peas, and salt; simmer 10 minutes. Add farro, potatoes, and carrots; simmer 20 minutes.
Step 2
Preheat oven to 350°F.
Step 3
While stew mixture simmers, cut out top of pumpkin, and reserve; remove strings and seeds. Wrap pumpkin in foil; place in a large roasting pan or baking dish.
Step 4
Drain tomatoes in a colander over a bowl (reserve juices for another use). Break up tomatoes with hands, allowing juices to drain. Stir tomatoes, mushrooms, sausage, and parsley into stew. Ladle stew into prepared pumpkin. Place pumpkin top next to pumpkin on the pan. Bake at 350°F for 1 hour and 10 minutes or until pumpkin flesh is tender and easily scooped from the sides. Serve stew along with spoonfuls of pumpkin.
Nutritional Information
Calories 288 Fat 11.3g Satfat 3.4g Monofat 5.5g Polyfat 1.4g Protein 13g Carbohydrate 36g Fiber 6g Cholesterol 16mg Iron 3mg Sodium 443mg Calcium 90mg Sugars 8g Est. added sugars 0g
Source: Cooking Light