By Julie Carrico, MBA, CCRC
In her mother, sister and a dear friend, Mary Carper had seen the suffering that occurs from shingles. So, when Corvallis Clinic internist Dr. Michael Chen and the Clinical Research Center began recruiting people for the nationwide Shingrix trial study, the retired NASA employee eagerly signed up.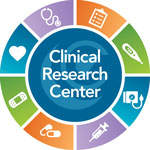 She wanted to be a part of developing a better shingles vaccine. She wanted to help protect herself and others from the debilitating pain of this viral infection.
Mary and others involved in the study were happy to find out in October that the Food and Drug Administration approved the Shingrix vaccine for the prevention of shingles.
Shingrix was developed to overcome the decline in immunity that often stems from aging. Study participants had to have been 65 and older. In addition, they either had not been vaccinated with Zostavax or had been vaccinated with Zostavax five or more years earlier.
The study, sponsored by the pharmaceutical company GSK, showed that Shingrix provides considerably greater protection than Zostavax and that this protection is also sustained at a high level for at least four years.
Mary and the other Clinical Research Center study participants were required to visit The Corvallis Clinic six times with monthly telephone contacts over a 14-month period. The investigational study vaccine was given by injection two times, once at visit 1 and again two months later at visit 3. All study-related procedures and the investigational vaccine were provided at no cost to participants.
"My obligations during the study were to be aware and responsible," said Mary, who also participated in a Research Center study in 2008 "I had to report any illness and be vigilant about noticing any changes. I also had to be available for phone calls once per month for the duration of the study." She said the phone calls were just about two minutes long.
Mary could not point out anything bad about her experience – even the required blood drawing! "I couldn't even feel it," she said in praise of Research staff that drew it. She said the vaccinations themselves were not painful, nor was her arm unusually sore afterward.
The best part of being in the study for Mary? "Knowing the vaccine was approved so quickly," she said. "It was a great study – easy and very rewarding. I would encourage others to be involved in studies because it would benefit themselves and others."
The Clinical Research Center is currently seeking volunteer patients in studies for Alzheimer's disease, Type 2 diabetes and a vaccine for patients with chronic obstructive pulmonary disease (COPD).
If you are interested in learning more about clinical trials, contact the Clinical Research Center at 541-766-2163, or send an email to mailto:research@corvallisclinic.com or fill out our Research Study Information Request form. And, don't forget to follow us on Facebook at https://www.facebook.com/corvallisclinicresearch.