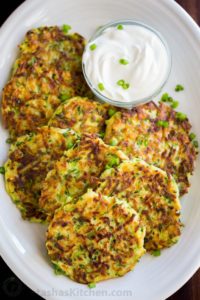 Ingredients
 1 pound (about 2 medium) zucchini, grated
 3/4 teaspoon kosher salt, divided
 1 1/2 ounces (about 1/3 cup) all-purpose flour
 1/4 cup grated Parmesan cheese
 2 large eggs, lightly beaten
 1 garlic clove, finely chopped (about 1 tsp.)
 3 tablespoons olive oil
 4 teaspoons reduced-fat sour cream
 2 tablespoons finely chopped fresh chives
How to Make It
Step 1
Preheat oven to 250°F. Stir together zucchini and 1/4 teaspoon of the salt in a large wire-mesh strainer set over a large bowl. Let stand until zucchini has released water, about 15 minutes. Discard liquid. Place zucchini in a kitchen towel, and squeeze to remove excess water. Add zucchini to a large dry bowl.
Step 2
Add flour, Parmesan, eggs, and garlic to bowl with zucchini; stir until combined.
Step 3
Heat 1 tablespoon of the olive oil in a large nonstick skillet over medium. Add 1 heaping tablespoon zucchini mixture to skillet, flattening with spoon to create a 3-inch round. Repeat to make 3 more fritters. Cook until golden brown and slightly crisp, about 2 minutes. Flip and continue cooking until browned on both sides, about 1 more minute. Transfer fritters to a large baking sheet lined with a wire rack, and keep warm in preheated oven. Working in batches, repeat with remaining oil and batter.
Step 4
Sprinkle fritters with remaining 1/2 teaspoon salt, and top evenly with sour cream and chives. Serve immediately.
Nutritional Information
Calories 142 Fat 10g Satfat 2g Unsatfat 7g Protein 5g Carbohydrate 9g Fiber 1g Sugars 2g Added sugars 0g Sodium 332mg Calcium 6% DV Potassium 5% DV