Limited availability for new patients
Dr. Hogansen provides neurocognitive evaluations for developmental differences (e.g., ADHD, Learning Disorders, Autism Spectrum Disorders) and traumatic brain injuries (e.g., concussion) for patients 0-30 years of age.
Language(s) - English
Dr. Hogansen is available Monday through Friday, and only accepts referrals for neurocognitive evaluations. She first sees a patient for an initial interview, then for a 4-5 hour testing session(s). She meets with the patient/parents approximately two weeks after the testing session to discuss the results and recommendations. Dr. Hogansen will coordinate care with other treating providers as needed.
Service not provided by Dr. Hogansen: Individual psychotherapy, couples therapy; therapy for substance abuse problems; forensic evaluations; testimony in legal proceedings; evaluations for eligibility for worker's compensation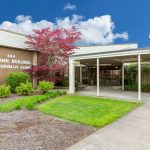 444 NW Elks Drive
Corvallis, OR 97330
Map/Directions
Residency
Child Development & Rehabilitation Center, Oregon Health and Science University, Portland
Internship
Oregon Institute on Disability & Development, OHSU School of Medicine, Portland
Education
Ph.D., Clinical Psychology, University of Oregon, 2004
Experience
The Corvallis Clinic, 2007 - ; Clinical Psychologist, Oregon Health & Science University; Research Assistant Professor, Regional Research Institute for Human Services, Portland State University
Certification
Licensed, State of Oregon, Board of Psychologist Examiners
Click on the appropriate link below to enter your provider's telemedicine waiting room for your scheduled appointment.