Limited availability for new patients
Dr. Hogansen provides neurocognitive evaluations for developmental differences (e.g., ADHD, Learning Disorders, Autism Spectrum Disorders) and traumatic brain injuries (e.g., concussion) for patients 0-30 years of age.
Language(s) - English
What services does Dr. Hogansen provide?
Dr. Hogansen is available Monday through Friday. During the COVID-19 pandemic, she is providing a limited amount of short-term psychotherapy services through a telehealth platform.
Dr. Hogansen accepts referrals for neurocognitive evaluations. For more information about this type of specialty evaluation, click here. Typically, these evaluations consist of three parts: a clinical interview, a testing session, and a feedback session. During the COVID-19 pandemic, Dr. Hogansen is conducting the clinical interview and testing session through a telehealth platform. The testing session will be conducted through a hybrid remote in-clinic platform.
What is Dr. Hogansen's evaluation philosophy?
"I have a great appreciation for the human brain, particularly how the brain develops over time. I believe that neurocognitive evaluations are one of the best options for gathering insight into how the brain functions. The information gathered in this type of evaluation helps us understand how an individual perceives the world around them and often helps us understand why an individual behaves in certain ways. This information can then be used to identify strategies and tools to optimize a person's well-being.  
Neurocognitive evaluations can be used to determine an accurate diagnosis, if appropriate. Diagnoses are often helpful for identifying treatment suggestions. The results of the neurocognitive evaluation, however, can also be used to identify individualized recommendations based on the patterns of brain functioning identified in the data.
Ultimately, these evaluations provide parents with information about how to best support their child's growth and development. For individuals, they are provided information to support them in understanding themselves more fully so they can reach their goals."
What are Dr. Hogansen's areas of specialty?
Neurodevelopmental disorders for individuals age 30 and under:
• Attention-Deficit/Hyperactivity Disorder (ADHD)
• Autism Spectrum Disorder (ASD)
• Intellectual disorders and intellectual giftedness
• Communication disorders
• Disorders of academic learning (reading, writing, math disorders)
Neurocognitive Disorders for individuals age 30 and under:
• Concussion and other traumatic brain injuries
• Cognitive problems associated with medical conditions like epilepsy
• Cognitive problems associated with genetic conditions
Psychiatric disorders:
• Anxiety
• Mood/Depression
• Behavior
• Personality
Services not provided by Dr. Hogansen: Long term individual psychotherapy; couples therapy; therapy for substance abuse problems; forensic evaluations; testimony in legal proceedings; evaluations for eligibility for worker's compensation.
If you are interested in learning more about whether Dr. Hogansen would be a good fit for your needs, please call our Referral Coordinator at 541-754-1288. If you are seeking services for neurocognitive evaluation, please read Dr. Hogansen's information about adult and pediatric neurocognitive evaluations here. If you have a scheduled appointment with Dr. Hogansen, please see the information in the New Patients tab.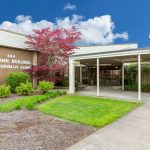 444 NW Elks Drive
Corvallis, OR 97330
Map/Directions
Residency
Child Development & Rehabilitation Center, Oregon Health and Science University, Portland
Internship
Oregon Institute on Disability & Development, OHSU School of Medicine, Portland
Education
Ph.D., Clinical Psychology, University of Oregon, 2004
Experience
The Corvallis Clinic, 2007 - ; Psychologist, Oregon Health & Science University; Research Assistant Professor, Regional Research Institute for Human Services, Portland State University
Certification
Licensed, State of Oregon, Board of Psychologist Examiners
If you will be receiving services via telehealth, please complete our online Telehealth Informed Consent Form. Click on the appropriate link below to enter your provider's telemedicine waiting room for your scheduled appointment.