Lori Dodds, BS, RDN, LD
Nutrition
Accepting new patients
"I am compassionate and supportive when it comes to making difficult lifestyle changes to better one's health"
Ms. Dodds, the Weight Loss Center coordinator, promotes sound nutrition practices and healthy, active lifestyles, using a science-based evidence approach. She develops personalized meal plans and educates those with such conditions as obesity, diabetes and heart disease.
Language(s) - English
Ms. Dodds enjoys encouraging people to get back to the basics of eating whole fresh foods. "With the current information overload in the media regarding trending fad diets," she says, "suggestions of what to include or exclude in one's diet can be very confusing, misleading and even dangerous."
One of her main clinical objectives, she says, is to identify for patients the specific behaviors that are preventing them from achieving their goals. "Together we create realistic targets, transforming adverse behaviors into more desirable lifelong habits. My intent is not to tell someone what to do, but instead, work together to find ways for them to meet their goals." She says she provides motivation and encouragement for changes they are seeking.
As coordinator of the Weight Loss Center, Ms. Dodds finds it especially rewarding to see patients who have struggled with obesity finally achieve their weight goal. "More than one-third of adult Americans are considered to be obese. I find this situation to be particularly challenging and of great concern regarding the population of the United States."
Ms. Dodds and her husband, a retired orthopedic surgeon, have three grown children. She is an avid tennis player and she also enjoys ping pong, volleyball and walks on the beach. And as someone with a "passion for animals," she has been an active volunteer for the Western Bluebird Trail and at local animal shelters. She has fostered dogs and cats for the past 20 years and has owned three Great Danes and several cats.
Education
B.S., Institution Management and Dietetics, Oregon State University, Corvallis, OR, 1983; Dietetic internship, Lebanon Community Hospital, Lebanon, OR
Certification
Registered Dietitian Nutritionist and Licensed Dietitian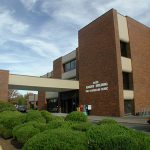 3680 NW Samaritan Drive
Corvallis, OR 97330
Map/Directions
Press Ganey Patient Ratings
The Patient Rating score is an average of all responses to care provider related questions on the nationally-recognized Press Ganey Patient Satisfaction Survey.
About the Press Ganey Survey Responses are measured on a scale of 1 to 5 with 5 being the best score.
---
Press Ganey Survey Comments From Patients