Language(s) - English, Spanish
Personal: Family, traveling, and volunteering time in overseas medical clinics.
Fellowship
Glaucoma fellowship at Stanford Medical Center, CA
Residency
Stanford Medical Center, Stanford, CA
Education
M.D., Stanford Medical School - 1982
Certification
American Board of Ophthalmology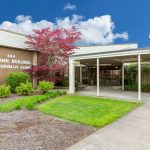 444 NW Elks Drive
Corvallis, OR 97330
Map/Directions
Published several book chapters in a wide range of medical fields, including cataract surgeries, leprosy, and glaucoma.
Press Ganey Patient Ratings
The Patient Rating score is an average of all responses to care provider related questions on the nationally-recognized Press Ganey Patient Satisfaction Survey.
About the Press Ganey Survey Responses are measured on a scale of 1 to 5 with 5 being the best score.
---
Press Ganey Survey Comments From Patients
Mar 2018
I feel most fortunate to be a patient of Dr. Byrd !!!! She is unfailingly professional, knowledgeable, extremely thorough, and a terrific communicator. In my experience, she is not only a terrific physician, but consistently makes her patient feel heard, unrushed, and well- cared for. She has been creative and most helpful with suggestions and referrals regarding past symptoms, and I have great confidence in, and the utmost respect for, her.
Mar 2018
I am impressed with Dr. Byrd's preparedness for each appt. she reads chart notes and is always up to date.
Feb 2018
Dr. Byrd's care of me has always been excellent. I completely rely on her with good confidence.
Feb 2018
Very easy to speak to the Doctor and get my questions answered.
Feb 2018
I generally have positive experiences whenever I see Dr. Byrd, and this time was no exception. She is good at answering questions and asking me what she needs to know.
Feb 2018
I feel very blessed to have such a wonderful and competent physician (ophthalmologist). She is very kind, thorough, gentle, and caring.
Feb 2018
She is an excellent doctor, professional, kind and patient.
Jan 2018
Dr. Sally Byrd is very professional and thorough. I have confidence in her care.
Dec 2017
Dr. Byrd and her staff are always courteous, prepared, and knowledgeable about my medical issues & needs, and very responsive to urgent situations.
Dec 2017
She is a knowledgeable and compassionate physician!
Dec 2017
Dr. Byrd is one of the best, most informative, most helpful and most considerate doctors I've ever had.
Nov 2017
She's very thorough in her diagnosis and testing of my eyes.
Nov 2017
Dr. Byrd and her team do an excellent job of making patients feel that they are interested in them as more than "just the next patient".
Nov 2017
Dr. Byrd has cared for my eyes for several years & is very thoughtful and professional!
Nov 2017
Sally Byrd has always been a great care provider. Answers the questions and has helpful suggestions or ideas. Follows up and makes you feel cared for.
Nov 2017
Sally Byrd and her assistant, Greta, are exceptionally helpful, knowledgeable and friendly.
Nov 2017
Dr. Byrd is a very good doctor who really cares about her patients and is very knowledgeable.
Oct 2017
Dr. Byrd takes outstanding care of my eyes. I trust her.
Oct 2017
The care I receive from this provider is consistently good.
Sep 2017
I feel as though I have A professional friend who is concerned about the quality of my life and will take the time needed to hear my concerns.
Sep 2017
Dr. Byrd is always helpful, pleasant and professional.
Sep 2017
Dr. Byrd gave me a good and complete eye exam. She was professional and knowledgeable, and she makes her patients feel very comfortable asking questions. I would highly recommend her to anyone.
Aug 2017
Dr Byrd is excellent!!!
Aug 2017
I have absolute confidence in Dr. Byrd. She is thorough, does a great review of vision history, and gives me the necessary information for the care of my eyes.
Aug 2017
Visit & exam meets my expectations & doctor listens to my concerns & responses.
Aug 2017
Dr. Byrd is a joy to visit. She knows exactly what I need with respect to vision.
Aug 2017
Dr. Byrd is outstanding. She is kind, knowledgeable, patient, and helpful.
Aug 2017
I would recommend Dr Bird to anyone with vision issues.
Jul 2017
Dr. Byrd is extremely competent and has an excellent manner with me. Her assistants, especially Greta, are also outstanding.
Jul 2017
Dr. Byrd is a very good doctor.
Jul 2017
Dr. Byrd always provides the highest level of professionalism. I feel confident of her care for me!
Jun 2017
I found Dr. Byrd to be the most knowledgeable and helpful ophthalmologist I have ever encountered. I will try to get her to take my husband on as a patient also.
Jun 2017
Dr Byrd always does a careful exam and I have confidence in her.
May 2017
I love Dr. Byrd. She is excellent.
May 2017
Dr. Byrd is thoughtful and thorough. I really appreciate her skill and ability to answer my questions clearly.
Apr 2017
Dr. Byrd and her staff are very professional and caring.
Apr 2017
Dr. Byrd is an excellent physician and her staff is very good. I have sent several friends to her.
Mar 2017
I feel very lucky to be able to work with Dr. Byrd!!! Her staff is equally wonderful and seems very happy in their work.
Mar 2017
Dr. Bird is always so professional and re-assuring. Very good experience to work with her!
Feb 2017
Dr. Byrd evaluates the patient as she goes through the steps of a general exam. She discusses any unusual circumstances and, if warranted suggests additional steps to determine the cause. Her interest and professionalism are greatly appreciated.
Feb 2017
Dr Byrd is wonderful to have as an eye doctor
Dec 2016
SHE IS A FABULOUS DOCTOR AND I AM SO GLAD TO BE HER PATIENT.
Dec 2016
Dr. Byrd is wonderful!
Oct 2016
Dr. Byrd is exceptional. She has always been responsive to any concerns or issues that have arisen. It is wonderful to have such a caring physician whose judgement I trust completely.
Oct 2016
Both Dr. Byrd and her assistant, Sharon gave very good service and attention to detail
Aug 2016
I enjoy seeing Dr. Byrd & appreciate her thorough, caring, kind & professional help very much.
Jul 2016
We have gone to Dr. Byrd for many years and are very pleased with our care.
Jul 2016
Friendly, knowledgable, knew of history, sympathetic
Jul 2016
Extreme trust in this care provider.
Jul 2016
I appreciated that she did not rush me as some doctors tend to do because of insurance rules.
Jul 2016
Good experience. I like Dr. Byrd and her staff. Always friendly & helpful.
Jun 2016
She is highly qualified – Lucky to have her at Corvallis Clinic.
Jun 2016
Overall experience with my visit with Dr. Byrd was very satisfactory.
May 2016
Dr Byrd is both knowledgeable and prudent in her practice. I dread the day she announces her retirement!
May 2016 Dr Byrd is the best! She is a superior physician.
May 2016
Dr. Byrd is exceptional. Wish all my doctors were as caring, competent, and communicative!
Mar 2016
Dr Byrd is a gem
Feb 2016
Dr. Byrd is an excellent doctor. We are grateful for her expertise, experience and concern. My husband is also a patient of hers. Her support staff is just excellent.
Jan 2016
Dr. Byrd is excellent; I have always received excellent care from her.