Sheena L. Strohmayer, MHA, ACRP-CP
"Research combines my love of science with my desire to help people and make a difference"
Ms. Strohmayer manages and supports the research team's efforts in bringing in studies that benefit our patients and that provide important medical and scientific knowledge to the healthcare field.
Language(s) - English
Ms. Strohmayer discovered the field of clinical research somewhat by accident, she said. After earning a bachelor's degree in chemistry from Carroll College in Helena, Montana, in 2006, she moved to Oregon to pursue a Ph.D at Oregon State University in the same subject. She said healthcare had always interested her, so she spent a year working on a team creating a probe used during surgery to monitor levels of heparin, an anticoagulant, in the blood.
"I thought the work was fascinating," she said, "but during that year I learned that I enjoyed the practical application of what we were doing far more than I enjoyed working in the lab."
During a hiatus from her studies she sought a lab job – "just to pay the bills," she said – and landed a Clinical Research Assistant position at The Clinical Research Center. "I had never even thought about medical research studies," she said, Once she heard what The Center was doing, she wanted "to give it a shot," eventually becoming a Clinical Research Associate Coordinator.
Ms. Strohmayer then left the Clinical Research Center to get experience in other healthcare areas, obtaining positions both inside and outside The Clinic before returning in 2017 as manager of the center.
Ms. Strohmayer's interests outside healthcare include fantasy fiction, family and travel.
"I'm a huge Harry Potter nerd," she said. "I love to read, and I spend most of my time hanging out with my toddler son."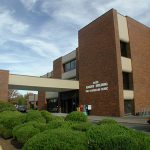 3680 NW Samaritan Drive
Corvallis, OR 97330
Map/Directions
Education
Master of Healthcare Administration, Walden University, 2011; Bachelor of Arts in Chemistry, Carroll College, Helena, MT, 2006.
Experience
Community Connect Supervisor, Salem Health, Salem, OR, 2015-2017. The Corvallis Clinic: Manager of Quality Improvement & lnformatics, 2013-2015; Senior Clinical Quality lmprovement Analyst, 2012-2013; Clinical Research Associate Coordinator, 2008 to 2012; Clinical Research Assistant, 2007-2008.
Certification
Certified Clinical Research Professional