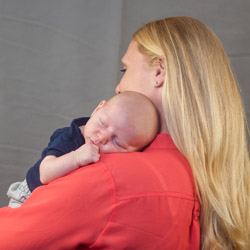 Sign up now for our free birthing and baby parenting classes.
Baby Bundle Prenatal Talk
Our expert obstetricians present a 90-minute talk covering the most important topics for moms and dads-to-be. Learn all about; signs of labor, birthing options, techniques for coping with pain, when to call your doctor, partner help during labor, choosing your baby's doctor, plus more.
Healthy Baby Prenatal Talk
Learn the essentials of caring for your new baby. This 90-minute class is presented by our pediatric specialists. The talk covers several important topics including; your baby's first hour, Apgar scores, Jaundice, development, circumcision, blood tests, and normal newborn appearance.
Class Location
Unless otherwise specified as "Online," our classes are located in the Asbury Dining Room, 3680 NW Samaritan Drive. Parking is available at the back of the building, and the entrance to the classroom is under the blue awning.
All attendees will receive a reminder email with details the week of their class.