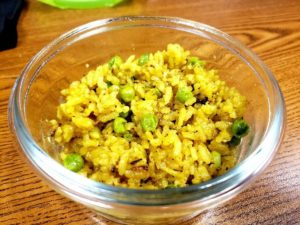 This recipe is a wonderful addition when making Tandoori Chicken. The rice is full of flavor and sure to be a crowd pleaser!
Ingredients:
4 C (rice cooker measuring cups) basmati rice or other white rice
1 ~13oz canned coconut milk
some vegetable (or other) broth (enough to bring the liquid level in the rice cooker up to the required 4 c line)
1/2 tsp cumin
5 cardamom pods
1 cinnamon stick
2 TBSP grated fresh ginger (or to taste)
1/2 tsp chili powder
1 tsp curry powder
1/2 tsp tumeric
1/2 tsp ground black pepper
1 tsp salt
3 whole cloves
Optional–peas or other frozen veggies
Instructions:
Rinse rice. Put in rice cooker and add spices and coconut milk. Fill with broth until the liquid level of the rice cooker is at the right amount for 4 rice cooker cups. Cook rice as usual. Compared to a normal plain white rice made with water in the rice cooker, this recipe may require somewhat more cooking time. For example, after the cooker indicates "finished" my rice cooker requires me to start it again and cook until it is done a second time. Remove cardamom pods and cinnamon stick and cloves before eating. Fluff rice and stir in peas or other frozen veggie mix (e.g., corn, carrot, green bean mix) and let sit until veggies are melted and warm. Serve.
** To enhance flavor of spices, add all spices to dry warm skillet and stir constantly until fragrances from the natural oils are released. Be careful not to burn. Then add to recipe as stated above..
Unknown Source