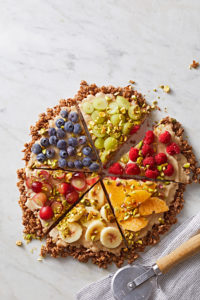 Ingredients
Directions
Prepare Banana Ice Cream. Place in freezer until needed.

For crust, line a 12-inch pizza pan with parchment paper. In a medium bowl stir together cereal and cocoa powder. Stir in oil and honey. Spread into a 10-inch circle in prepared pan. Freeze 5 to 10 minutes or until firm.

If necessary, let ice cream stand at room temperature just until soft enough to spread. Spread ice cream over crust to within 1 inch of the edges; add topper(s). Freeze 20 to 30 minutes or until ice cream is nearly firm.