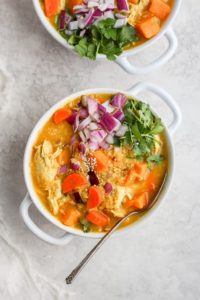 ★★★★★
4.8 FROM 5 REVIEWS
Get out your stock pot because we've got an amazing healing one pot golden curry chicken soup that is calling your name. This veggie-packed coconut curry chicken soup has a delicious flavorful broth filled with anti-inflammatory spices and includes 2 types of protein.
• PREP TIME:15 minutes
• COOK TIME:45 minute
• TOTAL TIME:1 hour
AUTHOR: Lee Hersh
YIELD: 8
CATEGORY: Dinner
METHOD: Stove-Top
CUISINE: Thai
INGREDIENTS
• 2 tablespoons olive oil
• 2 large sweet potatoes, cubed
• 2 large carrots, peeled and sliced into half moons
• 1/2 medium purple onion, diced
• 2 tablespoons minced garlic
• 4 tablespoons Thai green curry paste
• 1 tablespoon garlic chili sauce
• 1 tablespoon sriracha (or more if you like it spicy)
• 3/4 cup uncooked quinoa
• 6 cups chicken broth, divided
• 1 15-oz. can full fat coconut milk (**use low fat to reduce calories)
• 1 teaspoon ground turmeric
• 1/2 teaspoon ground ginger
• 1/4 teaspoon salt
• 1 lb. boneless, skinless chicken breast
• 1 stick of fresh lemongrass
• 1 medium green pepper, sliced and halved
• 1 lime, juiced
• fresh Thai basil or cilantro, to taste
INSTRUCTIONS
1. Begin by heating a large pot or dutch oven over medium/high heat and add olive oil and minced garlic.
2. When olive oil is fragrant, add sweet potatoes, carrots, onion, and salt to the pot and saute for 5-7 minutes. Stirring
periodically.
3. Next, add in curry paste, chili sauce, sriracha, uncooked quinoa, 4 cups of broth, and coconut milk. Mix together until combined.
4. After ingredients are combined, add ground turmeric, ground ginger, salt, chicken breast, and lemongrass to the pot and mix well.
Make sure that the chicken breast is submerged in liquid and bring to a boil over high heat.
5. Turn heat to low and cover pot. Let the soup simmer on low for 30 minutes, stirring halfway through.
6. After 30 minutes, remove chicken breast from the pot and add your last two cups of broth. Mix well and cover the pot.
7. Shred your chicken breast with two forks and add it back into your soup along with the sliced green pepper.
8. Let soup simmer for an additional 5-10 minutes and then add in lime juice and herbs right before serving.
9. Enjoy!
NUTRITION
• Serving Size: 1/8
• Calories: 377
• Sugar: 9
• Fat: 22
• Carbohydrates: 32
• Fiber: 4
• Protein: 16