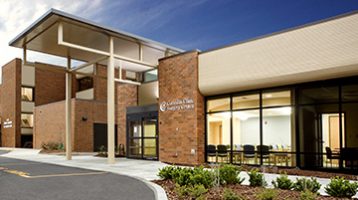 Surgery Center honored by Oregon Patient Safety Commission 
Thanks to modern medical advances, many surgeries today can be performed in an outpatient setting, where comfort and convenience are a high priority. The Corvallis Clinic Surgery Center fills this critical need in our community. The state-of-the-art Center was developed to offer high quality, safe surgical care, in an affordable and convenient setting.
Encompassing 10,400 square feet, our Surgery Center has three operating rooms and two endoscopy suites, as well as preoperative and recovery areas. It is certified by the state of Oregon for general anesthesia, making it usable for any surgical procedure that doesn't require an overnight stay.
With a smaller more personalized environment, procedure schedules are more predictable. This means fewer delays and more convenience for both patients and physicians.
Outstanding physicians from The Corvallis Clinic and the community perform a wide range of surgical services her, including:
Arthroscopic surgery
Endoscopy
Gastroenterological surgery
General surgery
Gynecological surgery
Hand and Wrist surgery
Orthopedic surgery
Otolaryngology surgery
Pain management
Podiatric surgery
Urological surgery
The accolades of patients, the praise of physicians, and the recognition from the Oregon Patient Safety Commission are testimony to our commitment: we will provide excellent service to physicians, and superior care and comfort for patients, to assure getting every patient home safely, as soon as is possible.
Should your doctor recommend an outpatient procedure for you, ask her or him about having it done at the center for patient satisfaction: The Corvallis Clinic Surgery Center.