To register another person for The Corvallis Clinic Patient Portal, you must also have an account. To register:
1. Go to Create Account to display the Create Account page.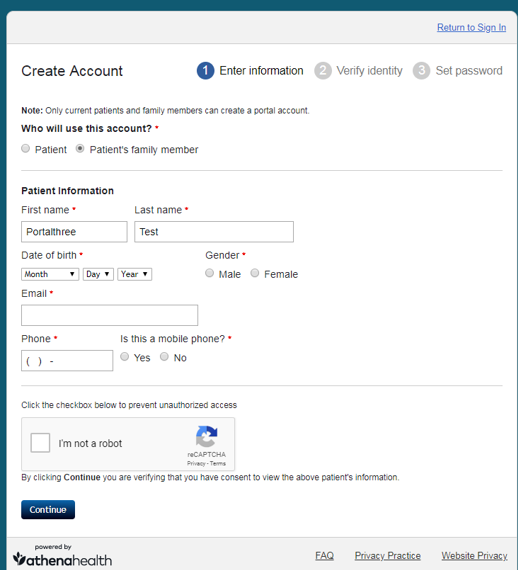 2. Select Patient's family member under "Who will use this account?"
3. Enter the person's information in the Patient Information section.
Note: When necessary, the phone number or email address of the parent or guardian can be used in the above step and in subsequent steps requiring a phone number or email address.
4. Select the "I'm not a robot" box, enter the CAPTCHA information, and then click Verify.
5. Click Continue to display the Verify Identity page.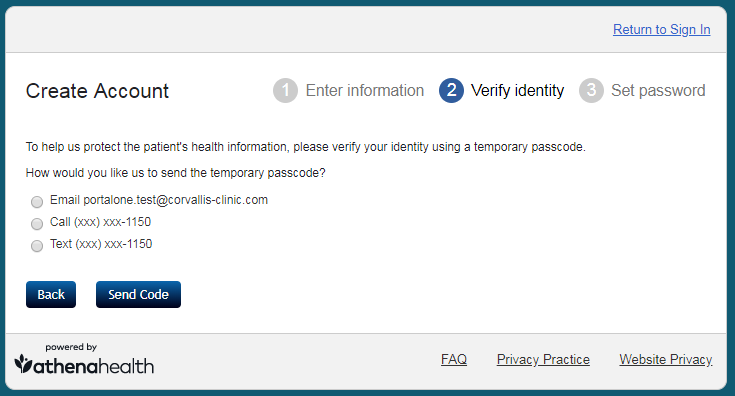 6. Select how you want the temporary passcode to be sent to the patient: email, call, or text message.
Note: The Patient Portal sends this temporary passcode to the patient (not to you) and informs the patient of your request to obtain access to his or her patient portal account.
7. Click Send Code to request that the patient send you the temporary code that was sent to them.
Note: The "Temporary passcode" text box appears after Send Code is clicked.
Note: By giving you the temporary passcode, the patient consents to you receiving access to his or her records.
8. Enter the temporary passcode you received from the patient in the Temporary Passcode text box.
9. Click Continue.
10. Select your relationship to the patient, and then enter your information.
11. Click Continue to display the Set Password Page.
12. Enter a password in the New Password text box, per the listed displayed requirements.
13. Re-enter the password to in the Confirm New Password text box.
14. Check the "I accept the Terms and Conditions and Privacy Policy" box.
15. Click Continue to display the Patient Portal Welcome page.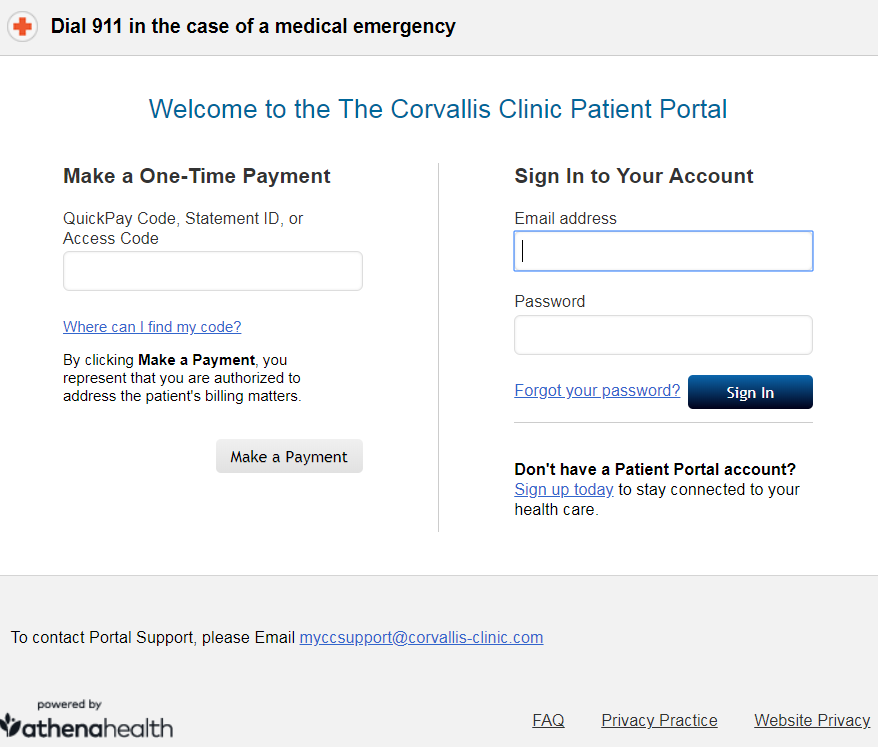 You now have a Patient Portal account with third-party access to your family member's account. For instructions on how to add a dependent so you can view their health records, go to Adding Dependents on Patient Portal.